Van Dyke explains New Tech learning
Sunday, August 11, 2013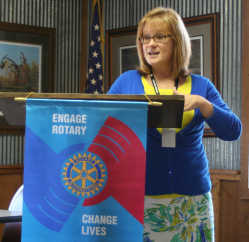 The Trumann School District has converted to the New Tech system of project-based learning--a huge change for both teachers and students.
Trumann High School Principal Wanda Van Dyke recently met with the Trumann Rotary Club to explain what New Tech is all about.
The New Tech Network originated in 1996 in Napa, Calif. According to Van Dyke, New Tech started when business leaders in that community began working with the school after raising concerns students lacked crucial skills needed in the workplace.
Van Dyke said there were two major things business leaders were concerned students did not have. One was agency: having a strong work ethic, showing up to work on time, and committing time spent at the workplace to doing work. The other skill students lacked was the ability to work well in groups.
Van Dyke said 87% of people who lose their job do so because of a lack of personal skills, not because they lack the knowledge. "It's not because we've not prepared them academically but because we've not prepared them professionally," Van Dyke said.
Van Dyke is a Trumann graduate herself. She said she got a fabulous education that prepared her for college at University of Arkansas at Little Rock, but the challenge came when she entered the workplace and found the skills which had served her well in school didn't always translate to the workplace. When she started in the workplace, she had trouble working in groups. Her parents had instilled a strong work ethic in her, but she never learned how work in groups and make sure groups functioned smoothly with everyone contributing. She said through the guidance of a teacher and principal, she learned how to collaborate with other teachers and parents, but it took several years before she felt comfortable with it.
"That is exactly what we do not want to happen to our students now. There are certain skills we need to put an emphasis on. We have got to have those interpersonal skills," Van Dyke said.
Part of New Tech learning is making sure students have the personal skills and problem solving skills which will apply to daily work life, in addition to making sure they are thoughtful readers with strong writing and math skills. New Tech also introduces more technology into the school to help prepare students for using more advanced technology when they get out of school. "Four million jobs in the U.S. do not have candidates because they're technology-based and workers aren't trained for them. We have to prepare our students for jobs that don't exist right now," Van Dyke said.
Van Dyke identified four skills students need which the school is working on now: the ability to access quality information, agency, the ability to be good collaborators, and the ability to excel through project-based learning.
Traditionally, a teacher lectures to a class, but Van Dyke pointed out this is not a good way for students to retain knowledge because it does not engage their interest level. In a New Tech classroom, instruction is student-driven while the teacher facilitates learning. "This pulls the students into being responsible for their own learning," Van Dyke said.
Students work on projects in groups, hold each other accountable, and the school will bring in people from the community to help evaluate projects. For example, if students are working on an engineering project, the school would bring in actual engineers to evaluate them rather than only relying on the teacher grading the project. Students will be required to present their project to this panel of experts. This gives students real world experience and helps them see the relevance of what they're doing in school and how it can be applied to their professional life after graduation.
Another part of the purpose of New Tech is to focus on bringing the students and the community together in collaboration so students can grow into becoming valuable members of the community. One example of a project Van Dyke gave involved a Trumann culture project Justin Vinson did with his class. The project was about the American Dream and what it means to different age groups. Students had to reach out to the community and interview community members. Then, they put together an exhibit for the museum. "Building community relations with the school and students will open doors for our students with real life experience," Van Dyke said.
Trumann School District began taking steps toward New Tech at the end of last school year. Van Dyke said it has been a huge shift for teachers to change their role in the classroom, but just as they adapted to the change, the students will too. "It will be challenging for our students, but it will be beneficial to our students," she said.