Fair Haven Farms holds last summer farm camp
Sunday, August 18, 2013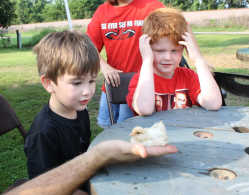 Jason and Tabitha Mullins shared all 200 of their children of all shapes and sizes with the community by hosting a farm camp for the first time this summer. The Mullins are owners of Fair Haven Farms in Trumann. This was the first summer for them to host the camp.
Mr. Mullins said they were successful with all three camps, having nearly 20 kids at the second summer camp.
In 2010, the farm began with the Mullins rescuing one donkey. After many more rescues, the farm expanded into a petting zoo. Mullins said the surrounding community showed an interest in them making the farm into a petting zoo for others to enjoy their unique animals, as well.
Fair Haven Farms began being showcased in nursing homes, educational events, and festivities. They make an appearance at the annual Wild Duck Festival and other festivals around the county. Last year, they began showing off their animals with a Barn Boo for Halloween. Since then, their number has grown to a little under 200 animals.
"With the farm growing, we wanted to do something that got the kids out of the house and out from under the video games and T.V.," Mullins said.
He did just that with the farm camp. In addition to learning several interesting facts about each of the animals and their personality, the campers learned recycling techniques. One of their recycled crafts was a flowerpot made entirely from old newspapers, cement, water, and animal waste.
"It gives them a chance to take a little piece of the farm home with them," Mullins said.
The campers also made aprons out of feed sacks as a recycling project. They were able to experience various everyday farm chores such as feeding the animals and finding good or bad eggs in the chicken's coop.
"It was a lot of fun, and I learned a lot about the animals," said three-time camper Caera England. "They all really like me."
With the great turnout and reviews, the Mullins plan on having an even better farm camp next year.