New Cedar Park principal speaks with Trumann Rotary
Monday, August 19, 2013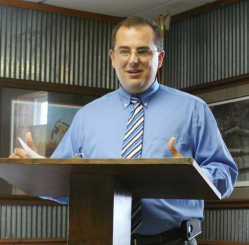 Michael Allen has been involved in education in northeast Arkansas for 15 years, ten as a teacher, and five as an administrator. Now, he's bringing his experience to Trumann as the new principal of Cedar Park Elementary.
Allen recently spoke to the Trumann Rotary Club about using technology at CPE and some of the new things coming to the school this year.
"Trumann School District is the first I've seen to really take technology and go full force with it," Allen said. "I've been quite impressed with what the district is doing."
Every student in Kindergarten through second grade has an iPad, and every third and fourth grader has a MacBook, just like the high schoolers. The only difference is the elementary students do not take their computers home.
When Allen first got acquainted with CPE's teachers this summer, he asked them for examples of how they used technology in the classroom. One example involved teaching students the value of good research and how to find the answers to their questions amid the wealth of information available to them.
Teachers are also able to take students on virtual field trips. "When you have kids in poverty, their experience revolves around their home life," Allen said. But with virtual field trips, teachers are able to take kids to places they would not have had the opportunity to go to and give them a better perspective of the world.
Another big thing involves students using technology to make videos. An example Allen gave involved students recording themselves reading a story and teachers reviewing the videos to see how the students can improve. Teachers can also use the cloud to post assignments on the Internet and give feedback to students online.
"Technology is just a tool, not an end in itself. It's not enough to say all the students have technology. We have to ask: how do we use that? How do the students benefit? I saw very quickly how the students are benefiting," Allen said.
The district will have a new Teacher Evaluation System being implemented across the state. Allen said Trumann students are well-prepared for new standards-based assessments this year because the district is already in its third year of implementing Common Core standards, which puts more emphasis on students being able to think critically, problem solve, and work together.
"At Cedar Park, we really are about the kids. We really want to make decisions to benefit the kids. We have a job to do: to raise these kids academically and prepare them for the next level," Allen said.
One CPE change parents may have already noticed this year is the school supplies lists are smaller. Superintendent Myra Graham, who was also present at the Rotary meeting, said students will still be learning handwriting, but the school will furnish those supplies and a lot of the craft and custodial supplies like scissors and Germ-X. Both Graham and Allen agreed the school pared down the supplies lists to try to help out local families. "We felt it was something we could do that was important for the community," Graham said.