Turner battling back from injury, loss
Friday, August 16, 2013
FAYETTEVILLE - It seems A.J Turner and the Arkansas Razorbacks staff view the same red shirt in different shades.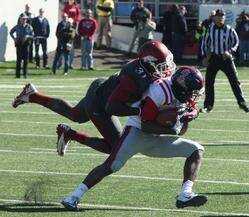 Turner, the sophomore linebacker from Lepanto via East Poinsett County High, sees himself garbed on home game days actively wearing Razorbacks red as he did last year as true freshman. With 2012 senior linebackers Alonzo Highsmith and Tenarius Wright both injured early, Turner played every game for the 4-8 Razorbacks of 2012. He started six, and made 53 tackles, including 3.5 behind the line for minus nine yards. closed making 12 tackles against LSU and was on the SEC All-Freshman team.
From those giddy heights Turner has taken a fall going into the fall.
New Coach Bret Bielema and new defensive coordinator Chris Ash obviously strongly considering to redshirt him.
That would preserve his sophomore eligibility in 2014 and allow the still slender 6-2, 224 'backer to hit the weights that his ailing wrist impeded him from hitting for much of the offseason.
Turner broke his wrist during the winter offseason. Linebackers passed him by while he missed most of spring ball.
It was a tough spring, Bielema said for Turner adjusting to a new staff while beset with the wrist injury and finally the death of his grandfather.
"I explained to him there have been a lot of things that have been taking hits at him," Bielema said last April. " He's got the injuries and the grandparent, and the transition hasn't exactly been a bed of roses for him just because we want to hold to him a little bit higher accountability in all areas. He's buying in and he hasn't left. That's a great statement on his behalf."
After a week of August preseason practice, Bielema sounded a similar theme.
"A.J. has got some lingering wrist issues," Bielema said. "The good thing is he's got a year of redshirt if we try to use that. He's a willing soul. I love his attitude. I love his energy. He just needs to come along quite a bit in the physical development to be able to play winning football for us."
For his part, Turner vows to play winning football right now.
"I'm back healthy and I don't plan on redshirting," Turner said. "I plan on playing. Right now I am in camp and trying to get back on the chart. I'm showing improvement every day so redshirting is not on my mind right now. "
Of course this time last year Turner and probably fellow 2012 freshman co-starter Otha Peters, too, were set to redshirt.
Highsmith and Wright going down prompted Turner and Peters to become regulars.
Peters (hip) also ailed last spring. Now Peters clings to a second-team berth while Turner is down to third team and his 2013 role in question.
"I don't know what his role is going to be, either," Ash said. "We have identified who are top linebackers are and right now he is probably not one of them. People want to talk about him playing last year. He played, but I think he played more out of necessity than anything."
On Ash's last sentence, Turner agrees remembering the 2012 plans of interim coach John L. Smith's staff were to redshirt him.
"Then when everything started hitting the fan," Turner said. "It was next name up and my name was called. So I had to go in and do what I could to help the team."
Turner's 2012 playing time first took hold on special teams. It seems that would be his shot for wedging his foot in the 2013 door.
"I think right now we have got to see if A.J. can help us on special teams," Ash said. "He shows up every day and works hard. He has changed his body and put on some weight and is stronger and things like that but right now he is not in our 2-deep."
Turner vows he'll overcome to crack the chart.
"I trained all summer in rehab to get back," Turner said. "I feel like I'm going to compete for a spot again. I feel like I am ready to play."