McBryde talks Race for the Cure with Marked Tree Rotary
Sunday, August 25, 2013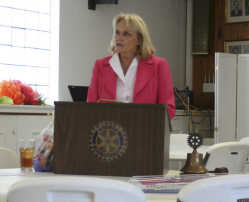 Sherrye McBryde, Executive Director of the Arkansas Affiliate of Susan G. Komen, spoke recently with the Marked Tree Rotary Club about the breast cancer organization and its annual Race for the Cure.
"If you were diagnosed with breast cancer in 1984, you could flip a coins and you would have a slightly better chance of surviving. Now, if you're diagnosed at stage 1, you have a 99% chance of surviving five years. Susan G. Komen is a large part of that," McBryde said.
The organization is named for Susan Goodman Komen, who was diagnosed with breast cancer at age 33. According to McBryde, before Komen died at 36, her sister promised to do what she could to end the disease.
The first Race for the Cure took place in Dallas, Texas, in 1984 with 1,000 people. According to McBryde, last year there were 120 races around the world with over one million people participating.
The Arkansas affiliate of Susan G. Komen held its first Race for the Cure in Little Rock in 1994. With 2,200 participants, it was the largest first-time race ever. Every year, the number of participants doubled until it hit 17,000 in 1998. The largest Little Rock race was almost 46,000 in 2010.
The total amount of money the Little Rock race has raised is over $21 million, with $4 million going to research and $31 million going to grants. According to McBryde, 75% of the money raised for Susan G. Komen stays in the communities it was raised in through grants, and 25% goes to the national office for research to find a cure. None of it goes to overhead.
This year's Race for the Cure in Little Rock is Oct. 19. Since this is the first year the Arkansas Affiliate has had a male chair, this is the first time men will be able to participate in the race. McBryde said Arkansas is one of the last affiliates to go co-ed. For more information on the Komen Race for the Cure, visit: http://www.komenarkansas.org/komen-race-for-the-cure/.
Community members are also reminded of Marked Tree's own Walk/Run/Ride for the Cure, which will take place on Saturday, Sept.28, during the Cotton Pickin' Jubilee. The Walk/Run/Ride is held every year by the Marked Tree Rotary Club in honor of Peggy Bankston. The Rotary Club is still looking for participants. Anyone wishing to participate may contact Bonnie Thompson at 870-358-3700 or any Rotarian.