EMS receives trauma training from Hospital Wing
Saturday, August 24, 2013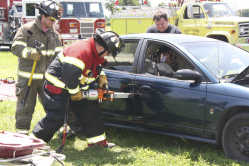 On Wednesday, Aug. 14, emergency medical services within the county attended a training sponsored by the air ambulance service Hospital Wing. Among those present were Trumann EMS, Medic One, and Emerson.
"It's a pre-hospital trauma life support class that teaches pre-hospital personnel how to deal with traumatic injuries in the field," said Jason Clark, Director of Business Development and Education for Hospital Wing.
This is the first time Hospital Wing performed the training for the three services. On average, Hospital Wing provides the training to about 1,000 people per year within their service area.
The company has serviced Northeast Arkansas for 27 years. They recently opened a new location in Jonesboro, helping them to provide better on site training around the area.
With the training on Wednesday, all of the EMS personnel who participated received a 4-year trauma certification. The training lasted all day Tuesday and Wednesday. Clark said most of Tuesday was spent in the classroom.
"It's a great service they provide for all of the pre-hospital or emergency providers," said Dale Parker, owner and operator of Truman EMS. "We learn the best way to treat the patient, because it's all hands on and very informative."
Parker said Wayne's Auto Salvage in Trumann donated a vehicle for the EMS training. The paramedics used the vehicle, along with a dummy, to recreate five different scenarios for five different groups of three paramedics. With the scenarios, the paramedics were given the conditions of the patient along with the cause of the wreckage.
Most of the scenarios called for the help of the fire department. Clark said this was a good team building exercise for the two teams to work together for the safety of the trauma victim.
The Trumann Fire Department had to use the Jaws of Life with a few of the scenarios. With the last scenario, Hospital Wing had the wrecked car flipped over with a trauma victim inside.
"Our mission with this class was to do some community outreach and help our EMS providers to better prepare for these terrifying situations," Clark said. "I think everyone who participated learned something new, and they all did very well."