Trumann Lions receive awards
Monday, August 26, 2013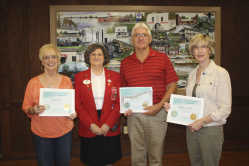 Trumann Lions Club member Betty Payne recognized three other Lions at last weeks meeting with certificates of appreciation for their servitude to the community.
The first recipient was Lions Club President Ronnie Harrison. Harrison has served as the club's president for three years.
"He's dedicated, works hard, supports all of our fundraisers and stays involved in several events within the community," Payne said.
She added one of the most important aspects of being a part of this service club is staying involved within the community, and Harrison does just that. He is a member of the Trumann Chamber of Commerce, as well. He also helps various civic groups within Trumann by participating in fundraisers or acting as a volunteer.
The second Lion to be recognized was Patsy Bullock, the secretary and treasurer for the Lions Club. Payne said she holds the most important job that requires a diligent, honest and hardworking person. Lion Barbara Lewallen was also recognized for her hard work in the organization of events and fundraisers for the club.
"She is very dedicated to the Lions Club, Trumann Chamber, economic development in Trumann, and the Fine Arts Council," Payne said. "I believe Trumann is a better place to live because of Barbara Lewallen."
After the presentation of awards, Chad Rampley with John 3:16 Ministries spoke to the lions about their upcoming fundraiser. The ministry is hosting the 3rd annual Community Festival, which is the second largest fundraiser by the organization.
Rampley said he is a graduate of the John 3:16 program. The program in Charlotte, Ark., is made to help men with addictions, such as drugs and alcohol. Men entering the program do not pay a price.
"We always say 'Jesus Christ paid the price already,'" Rampley said.
He added that the program currently has 100 men, with the average cost of feeding each man at about $35 per day. Without any other financial support, the ministry holds fundraisers such as the Community Festival to help with the men.
The festival will be held at the Arkansas State University Convocation Center in Jonesboro on Saturday, August 24. The cost per ticket is $10. The price includes a catfish or chicken dinner, live entertainment, and the chance to win a variety of prizes.