Wild Duck Festival golf tourney a success
Friday, August 23, 2013
Trumann Chamber of Commerce held its 28th annual Wild Duck Golf Tournament Saturday, August 17 at Trumann Country Club.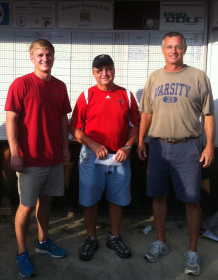 Winners are as follows: Championship Flight: McClung,McClung and Smith; A Flight: Shipp, Shipp and Lee; B Flight: Wray, Dooley and Bentley.
Sponsors were as follows: Southern Bancorp, First Delta Bank, Unico Bank, Columbia Forest Products, Walmart, Dixie Gin, Hyneman & Associates, Dennis Morgan Insurance, Thompson Funeral Home, Jeff Whitlatch (Coldwell Banker), Craighead Electric, and Town & Country Industrial Supply. Thanks to Wood Ford for sponsoring a Ford Fiesta for a hole-in-one prize and to Speedway Sales for an EZGO golf car as a hole-in-one prize.
The Chamber thanks all who helped with the tournament, all who participated, and all who sponsored.
The Wild Duck Golf Tournament is the first event leading up to the Wild Duck Festival which will be held October 4 & 5 at the Trumann Sports Complex on Pecan Grove Road.