Dr. Reed addresses Trumann Lions Club
Sunday, September 1, 2013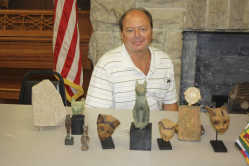 The Trumann Lions Club had the pleasure of meeting Dr. Kevin Reed at their last weekly meeting on Wednesday, Aug. 21. Reed is a veterinarian and the owner of Vetcare, Inc., in Jonesboro; however, he only talked about one animal at the meeting ancient cats.
"I'm not an expert on this," Reed said. "I just have a special interest. I got interested probably 25 or 30 years ago."
Dr. Reed attended of Arkansas State University in Jonesboro as an undergraduate student and went on to the University of Missouri College of Veterinary medicine in 1983.
His interest in the history of felines began while he was in college, but he has always had a deep love for the animal in general.
"The history of the cat is long and varied," Reed said. "They've had good times and bad times, but I think they reached their payday back in Egypt during about 300 A.D."
The vet took the Lions Club members all the way back to 4000 B.C. to the beginning of cats. He said after 2000 B.C., the animals began to have contact with humans. About 1000 years later, the cats became fully domesticated.
According to Reed, from about 1000 B.C. to 300 A.D. cats were a manifestation of certain deities in Egypt. Reed had several artifacts from that time period to show the club. Among these artifacts were actual mummified heads of cats.
"The Egyptians mummified many animals that they believed were Gods and Goddesses," Reed said. "They preserved their bodies so their spirits would have a place to come back to after the afterlife."
Reed had three mummified heads, along with other artifacts from Egypt he has collected over the years. He said he has a full-mummified cat within his collection, but it was too fragile to be transported. He obtains his artifacts off of online antiquity galleries.
In other business, District Governor of the Lions Club Betty Payne presented two members of the club with certificates of appreciation for the servitude with the community. David Thompson and Harold Williams were the recipients of this recognition. Payne said they both work hard in the community to serve. Last week, Payne recognized President Ronnie Harrison, Barbara Lewallen and Patsy Bullock.
The Lions also heard from Trumann School District Superintendent Myra Graham about the new school year.
"It was a great start," Graham said. "I've seen a lot of smiling faces, and I think it's going to be a great year for Trumann Schools."