EPC cheerleaders ready to go
Saturday, August 31, 2013
Driving through Lepanto on a school day afternoon, you may just see teenage girls yelling and stomping their feet. No it's not a temper tantrum, these girls are EPC cheerleaders.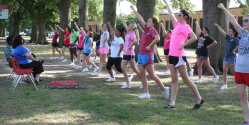 The girls have been working hard to prepare for the new school year going on seven months. "They really work hard," says Tammy Turner, coach of three years. The girls attended a week long cheer camp instructed by Morgan Merris of ASU, in Jonesboro over the summer.
The squad is made up of 22 girls in total, 13 junior high and nine senior high. Regan Roberts spends her last year of high school as senior captain, welcoming back her 15 previous teammates, along with 7 new members.
"We're just ready to get out and cheer our boys," says Christy Mclaughlin, coach of seven years. The girls would like to invite you all out to the first games of the school year on September 5 & 6.