Red Wolves win season opener
Thursday, September 5, 2013
The Arkansas State Red Wolves and University of Arkansas-Pine Bluff (UAPB) Lions met for the first time ever this past Saturday at Liberty Bank Stadium in Jonesboro. The Red Wolves jumped out to a 48-0 halftime lead and coasted to a 62-11 win.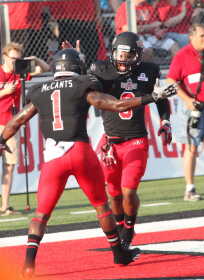 The Red Wolves scored on their opening possession as quarterback Fredi Knighten scored on a 21-yard run. Brian Davis kicked the first of his eight extra points on the night to make it 7-0. J.D. McKissic found the end zone from 14 yards out with just a little over two minutes left in the opening period. Davis' point after made it 14-0.
Arkansas State didn't let up as they found the end zone five more times in the second period. David Oku scored from two-yards out, Knighten broke loose and ran 79-yards for a score before Oku scampered in from 17-yards to make it 34-0. Michael Gordon streaked 91-yards for touchdown before Adam Kennedy hit Julian Jones with a 22-yard touchdown pass to make it 48-0 at the half.
Sirgregory Thorton scored the Red Wolves final touchdowns of the night on a six-yard run then again on a 31-yard run to make the score 62-0. The Lions got on the board when linebacker Jer-ryan Harris scooped up a loose ball and returned it 37-yards for the score. Jeremiah Young rushed for the two-point conversion to make it 62-8. Tyler Strickland kicked a 39-yard field goal for UAPB to set the final score at 62-11.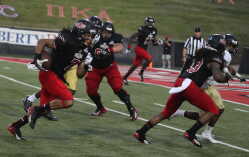 Oku led four rushers over the century mark with 124 yards. Thorton finished with 112, Gordon 102 and Knighten 101. The Red Wolves rushed for 509 of their 672 total yards on the night. Kennedy finished with 149 yards passing.
Ryan Carrethers and Qushaun Lee finished with eight and seven tackles respectively. Carrethers and Darius Dunaway both had a sack and a half as the Red Wolves finished with six sacks on the night.