Trumann says farewell to beloved philanthropist
Friday, September 6, 2013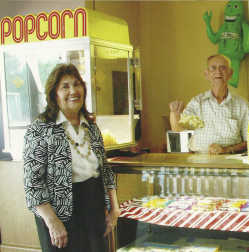 Pauline Noel, a beloved hardworking woman for the city of Trumann, died at the age of on Sunday, Sept. 1. Her passing follows that of her husband's, Jack Noel, in 2012.
The Noels were married for 63 years. They had long standing ties with the community of Trumann as owners of the Maxie Theater. They owned and operated the single-screen theater for over 50 years, with Mrs. Noel having worked in the theater business for 63 years. After the passing of her husband, Noel donated the theater to the Trumann Fine Arts Council, only wishing to give back to Trumann what it had given her for 53 years. The Maxie is now listed on the Arkansas Historic Preservation Program.
In addition to her many years as an owner of one of the biggest local entertainment centers, Noel was also a teacher. She had three degrees including a Bachelor of Science, Master's and a Community College Teaching Specialist degree, with majors in business education and English. She dedicated her life for 48 years to teaching students. In Trumann, it was not unusual to share the experience of being in Mrs. Noel's classroom with your parents.
Noel also stayed involved in the community through charity work by staying involved in the local organizations and giving to St. Jude Children's Hospital in Memphis regularly. Before retiring from her career, she had previously been a member of the Delta Pi Epsilon National Honorary Graduate Fraternity in Business Education, National Education Association, Arkansas Business Education and the Trumann Classroom Association.
After retirement and donating the Maxie, Noel thought that the best place for her would be to go back to her hometown in Allen, Oklahoma, to be with her family.
Born in Oklahoma, Noel never expected to find herself in Trumann, Ark. She met her husband at a theater in Oklahoma. They came to Trumann to take an 18 month lease on the Maxie, but they stayed longer because of the people.
Noel came to Trumann only expecting to stay a few short months. However, those months turned into a lifetime, and for that, the community is eternally grateful.