Junior Hornets fall to Westside
Friday, September 13, 2013
Junior high football season cranked up this past Thursday night as the Harrisburg Junior Hornets hosted the Junior Warriors from Westside. Westside scored in each quarter to go up 30-0 as Harrisburg scored late to make the final 30-8.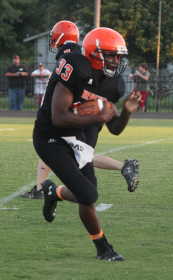 Harrisburg went three and out on the first series and was forced to punt. The Junior Warriors looked to have fumbled on their second play but the runner was ruled down. Facing third and 23, the Junior Warriors scored on a 67-yard pass play. The two-point conversion was no good leaving the score 6-0 Westside. The Junior Warriors got the ball back after a Harrisburg punt late in the opening quarter. Garrick Bryan busted through for a quarterback sack as the first quarter ended.
The Junior Warriors opened the second quarter scoring with a three-yard run touchdown run from their quarterback. The two-point pass play was good to make it 14-0 with 7:15 left in the quarter. A bad snap on a Westside punt gave Harrisburg the ball on the Junior Warriors 30-yard line but they were unable to capitalize as Clay Wright was sacked causing a fumble that Westside recovered with 28 seconds left before half. The teams went to half with the score 14-0 Westside.
"The defense played really well in the first half," Harrisburg coach Sean Hammond said.
The Junior Warriors wasted little time in the second half as they returned the kickoff for a touchdown to push the lead to 20-0. The two-point try was successful to make it 22-0. The teams exchanged fumbles on their next possessions before the Junior Warriors defense forced a fourth down incomplete pass as the third quarter ended.
Westside made it 30-0 as the quarterback scored his second touchdown and the two-point conversion was good. The Junior Hornets got on the board with 22 seconds left as Malik Versie scored on a 22-yard run. Dakota Lee hit Hunter Harris with the two-point conversion pass to set the final score at 30-8.
"We will work on our offense in preparation for Brookland next week. They run the same defense and we will have to be able to block it and go," Hammond added.
Versie ended up with 144 yards rushing on the night after having only 16 yards at the half with a touchdown. Bryan led the defense with four tackles.