Oscar Junior Jones
Tuesday, September 24, 2013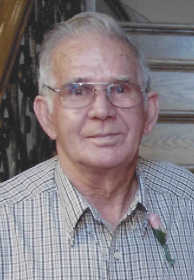 TRUMANN - Mr. Oscar Junior Jones died peacefully at his home August 27, 2013 after a long illness with Alzheimer's. He was born to Oscar W. and Rendy F. Jones February 4, 1938 in Fayetteville, Tenn. The family moved to the Shady Grove Community in 1940 where he was raised and lived until 1979 when he moved his family to the Jonesboro area. He had recently moved back to the Trumann area to be close to his children. Mr. Jones was a retired construction worker and a commercial carpenter. He attended Brookland Assembly of God Church until his health declined. He was saved and Baptize in 2011. He loved his children, grandchildren, great-grandchildren and the outdoors. He was preceded in death by his parents, one brother and two sisters.
He is survived by his wife of 55 years, Irene Ingram Jones of the home; two sons Rick (Sherry) Jones of Trumann and Shorty (Lisa) Jones of Harrisburg; one daughter Debbie (Danny "Bub") Smith of Trumann; six grandchildren Erika (Jason) Treat of Rogers, Justin (Alex) Jones of Bono, Danielle (Andrew) Walters of Little Rock, Jessica (Wes) Walker of Jonesboro, Joshua (Kristin) Baker and Julia Jones of Harrisburg; four great-grandchildren Kayden Baker, Braelynn Walker, Jace and Jaxon Jones; one sister Annie Ruth Morris of Trumann; and one brother Jimmy Jones of Bay.
Funeral services were August 29 in the chapel of Thompson Funeral Home with Bro. Benny Isom and Bro. James A. Moore officiating. Burial followed in Jonesboro Memorial Park Cemetery in Jonesboro.
Pallbearers were Jason Taylor, A.J. Clem, Eddie Clem, Ricky Wright, Billy Smith and Kirk Long. Honorary pallbearers were Doyle Clem and Brandon Carter.
Memorials may be made to the charity of your choice.
An online guest book can be signed at www.thompsonfuneralhome.net.