Junior Warriors cruise
Friday, September 27, 2013
EPC's Junior Warriors hosted the Cross County Junior Thunderbirds last Thursday in junior high football action. EPC wasted little time as they jumped out to a 28-0 halftime lead on their way to a 34-6 win.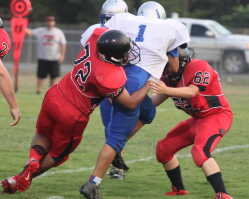 Chanc Gray got the scoring started for the Junior Warriors with 15-yard touchdown run with 5:00 left in the opening quarter. Gary also added the two-point conversion to make it 8-0. The defenses played strong the remainder of the quarter as a Brock Evans sack forced a fumble with Jerritt Watts recovering and the Cross County defense forced a turnover on downs late in the first period.
The Junior Warriors scored three times in the second quarter as Watts picked up a fumbled bad snap and scored with 5:48 left. Trevor Walker added the two-point conversion run to make it 16-0. Dee Lauderdale stepped in front of a Cross County pass and returned it 55 yards for a score with 3:11 remaining in the second quarter. The two-point try was no good leaving the score 22-0 EPC. Lauderdale struck again as he took a reverse handoff from Walker and ran 28 yards for another touchdown with 54 seconds left. The two-point pass was incomplete.
The Junior Thunderbirds tried an onside kick to open the second half but Matt Brown fell on it for EPC. The defenses stiffened in the third quarter as neither team could muster much offense as the scored remained 28-0 headed to the final quarter.
Cross County got on the board with a 64-yard run with 5:41 left. The two-point try was no good making it 28-6. Gray finished the scoring on the night with a 33-yard touchdown run with 33 seconds left in the game. The two-point try was unsuccessful making the final score 34-6.