4-H looks for leaders in the community
Wednesday, October 2, 2013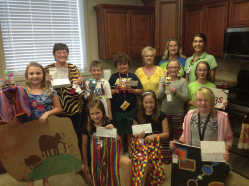 With child participation on the rise, the Poinsett County 4-H program is looking for volunteers within the community to adhere to their growing involvement.
"The kids are always looking for fun and exciting things to do," said Mike Hamilton, Poinsett County Extension Agent. "The real challenge is finding volunteer leaders to organize these clubs."
Hamilton said the agents with Poinsett County have been trying to revitalize the programs since he has worked with them.
"Our success has been on and off in the past, but in 2004, Craig Allen began a Shooting Sport's Club. That's when we really started seeing growth in the program, because that club took off and did excellent," Hamilton said. Allen is also a County Extension Agent.
Allen has had many successes with his club since 2004, with the club and its members receiving around 150 ribbons and trophies per year. Over the last five years, Allen said they have consistently been ranked high within the state.
"Being a leader of this group really gives you the inside of what a youth is able to achieve with a little guidance," Allen said. "It's a great sense of accomplishment for the kids and the leaders when you see a vision grow into an action."
As a leader, Allen said there is much to be gained by adults from the experience of being a volunteer for the program. The only requirements for leaders are to attend training workshops and pass a background check. Hamilton said there are also fun activities for leaders who get involved.
With 4-H clubs meeting once or twice a month, volunteer hours can be as little as 25 hours a year to 50 hours a year.
"It doesn't take a significant amount of time," Hamilton said. "We are shaping the lives of the next generation right now. The involvement of adults as good leaders is paramount in the development of the youth's character."
Trumann resident and former 4-H member Letha Owens said she has many fond memories from being in the club. In her youth, she enjoyed many of the activities offered by the program and is still thankful for the influence it had on her life. As an adult, Owens also enjoyed serving a leader of a 4-H club for four years.
There are presently five 4-H programs in Poinsett County including the Poinsett County 4-H Shooting Sports Club, the Livestock Legends 4-H Club, the Trumann 4-H Shooting Sports Club, the Helping Hornets 4-H and the Trumann Wildcats 4-H. Hamilton said this is just a sample of over 80 4-H projects that the youth can choose from.
4-H programs around the nation have a mission to shape the lives of youth, from ages 5 to 19, to become contributing citizens in society by providing a variety of opportunities to get involved in the community. The Poinsett County 4-H program is conducted by the University of Arkansas, Division of Agriculture Cooperative Extension Service.
Persons wanting to get involved as a leader or participant in the program may contact Mike Hamilton or Craig Allen at (870) 578-4490.
The Arkansas Cooperative Extension Service offers its program to all eligible persons regardless of race, color, national origin, religion, gender, disability, marital or veteran status, or any other legally protected status, and is an Affirmative Action/Equal Employment Opportunity Employer.