Trumann Parent Center works on involvement
Wednesday, October 2, 2013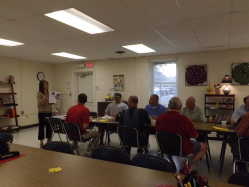 The Trumann School District Parent Center has seen rapid growth in the number of participants in their programs this year. Patti McWayne, parent center coordinator for the district, said about 30 parents utilized the center within the first four weeks of school.
"We have a goal to get parents involved in the school and feel comfortable with their child's learning," she said.
McWayne said one of the most important programs that the center provides is the Enrichment Prescription Program. Through the program, teachers give parents a note, or a prescription, detailing the aspects of their learning that needs help.
After parents take this note to the parent center, McWayne freely provides them with materials to check out for up to seven days. Parents may check out three items at one tiem.
"We try to provide fun learning tools," McWayne said. "The more fun they are having, the more likely they are to retain what they are learning."
The center also provides tools which benefit parents. Workshops are held frequently for mothers, fathers, grandparents and other guardians.
This year, the Parenting Center has hosted a Boo Hoo-Yahoo Breakfast, a Curriculum Night and several other events for parents to get involved in their child's education.
The Curriculum night was beneficial in informing Cedar Park Elementary parents of the new Stepping Stones Math program and the Reflex Math program. Both programs take advantage of the technology given to the CPE students. The center provided parents with packets detailing their childs curriculum even further.
Last year, the parent center held a variety of classes pertaining to everything from exercise to economics. This year, McWayne hopes to have that same variety with Internet Safety courses, Yoga classes, Parenting Journey classes and other informative curriculum nights.
In October, she plans to start having a Family Story Time for pre-K through fourth grade students.
"Its important for people to get involved in their child's education," McWayne said. "You'd be amazed at what just reading to them every night will accomplish."
Those who want more information about classes and activities provided by the Parent Center may contact Patti McWayne at (870) 483-7850 or stop by the center located at 116 North Magnolia Street. The center is open on Monday, Wednesday, and Friday from 7:30 a.m. to 4 p.m. and Tuesdays and Thursdays from 9:30 a.m. to 6 p.m.