Cricket gets a wheelchair
Friday, October 4, 2013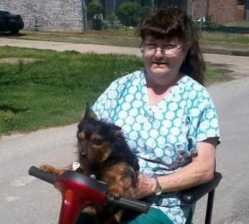 Connie Carter of Trumann loves to tell the story of her beloved dog, Cricket. Beck Marko, of Reno, Nevada sent her the story she shares on her website.
Though across the country from each other, Marko and Carter reached out and changed each other's lives. Carter, a home health aide for the elderly and disabled, is the owner of 12 year old Cricket, a Yorkie, who has been paralyzed for the past 6 years due to spinal injury. Beck is a Reno, Nevada mom with an online business who was recently disabled from a disease called complex regional pain syndrome which resulted in her being in a wheelchair.
Carter rescued Cricket in 2001 after he was abandoned and left on the streets of Trumann to starve. In 2006 Cricket became disabled. Carter was told Cricket had no chance of recovery and needed to be put down. She just wasn't ready to settle for that. Carter continued to stay by Cricket's side and do everything in her power to make him happy. Carter took Cricket to see Trumann Veterinarian Norette Underwood who told her Cricket needed surgery and then would be able to spinal walk. The type of surgery Cricket needed wasn't performed in Arkansas so Underwood put Carter in contact with Moseley G Noell DVM, an Animal Hospital facility in Memphis where the surgery was performed. After surgery Cricket learned to "spinal walk" and is able to pull himself around.
Cricket is home and well now and he gets around just fine. Cricket still needs a little help now and then. He still goes through extensive amounts of physical therapy and has to have his bladder emptied every three to four hours, but Carter is very devoted to him and doesn't mind at all.
Carter and Marko met online after Marko's dog had suddenly became paralyzed. Carter reached out and talked with her to help her know that she is not alone. Sadly, Marko's dog passed away but Carter and Marko remained in contact. When Marko heard that Cricket did not have a wheelchair, she made it her mission to sell enough items in her etsy.com store to be able to purchase Cricket one. Cricket instantly became very special to Beck's customers and they too wanted to help.
Marko says "Connie helped me so much and grieved along side of me, a total stranger, when we lost Bruno. Connie and Cricket have a special place in heart. I needed to do everything I could to be able to get him a wheelchair because I know firsthand that getting one means gaining freedom. My wheelchair has allowed me to do most of the things that I did before my diagnosis. I want that for Cricket. He is a constant source of inspiration to me. My new saying is "Dogs can be heroes too."
Marko dedicated a section of her online store, "Beck's Ware" to Cricket. She makes and sells felted wool dryer balls and put the money from the purchases aside to be able to buy Cricket a wheelchair. On Sept. 27, she will be purchasing Cricket's wheelchair as they finally raised enough money. The wheelchair should be delivered the first week of October, which is the week of Carter's birthday.
"On behalf of Cricket and me, we want to thank everyone from bottom of our hearts. I was blessed to have met Beck. My little paralyzed Cricket will run like the wind again and will be able to live a fuller life than before. I can't wait to see his doggie eyes light up. I told Beck it's the best birthday gift I'll ever get, for Cricket to get his wheelchair", Carter told reporters.
Carter can't wait to share videos of Cricket in his new set of wheels.
Carter and Marko hope to spread Cricket's story to as many people as possible. "We hope that others who hear Cricket's story will reach out and help someone in his honor. You will be surprised how easy it is to impact a person's life. Acts of kindness can be as simple as a smile, wave hello or a gift to someone in need. But the most important message in this story is, in hard times, don't give up hope."
They hope to someday meet in person but until then, they will keep on talking and working together to spread Cricket's story.
Beck's Ware will continue to have "Cricket's Corner" open and full of items because they hope to be able to help other dogs in need, just like Cricket. To keep updated on Cricket, you can visit www.facebook.com/BecksWares.