Junior Indians blanked by McCrory
Thursday, October 3, 2013
Marked Tree celebrated homecoming last Thursday night by hosting McCrory in junior high football action. The Junior Jaguars downed the Junior Indians 30-0.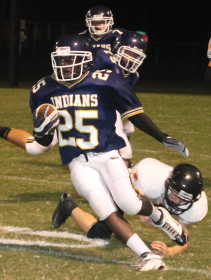 Marked Tree got the opening kickoff and drove down to the McCrory 39-yard line before Shy Anderson fumbled and the visitors recovered. McCrory drove down the field and scored on a seven-yard run. The two-point conversion was good to make it 8-0 McCrory with 5:10 left. Marked Tree fumbled again late in the quarter on the McCrroy 20-yard line.
McCrory increased their lead to 16-0 with another touchdown and two-point conversion with 5:33 left before halftime. The Junior Indians looked as if they were going to get on the board before half but were stopped at the McCrory one-yard line as time expired in the second quarter.
McCrory struck on the first play of the second half as they scored on a long touchdown run. The two-point try was no good leaving the score 22-0 McCrory. Tuke Brown returned the kickoff out to midfield to give Marked Tree good field position to start their drive. The drive ended with a turn over on downs as the Junior Indians were stopped on fourth and one with 4:39 left in the quarter.
Marked Tree held McCrory on downs and took over on their own 21-yard line with 6:27 left in the game. The Junior Jaguars defense scored the final points as it picked up a backward pass and ran it in for a touchdown with 5:35 left in the game. The two-point conversion set the final score at 30-0.
"We didn't execute well," Marked Tree coach Derik Drewett said of his team after the game. "Turnovers were costly and you can't do that against a good team," Drewett added.
Paul Coleman rushed for 74 yards for Marked Tree as Julian Booked chipped in 34 yards rushing. Shy Anderson completed three passes for 17 yards for the Junior Indians.