Wildcats fall to Pocahontas in homecoming matchup
Thursday, October 3, 2013
It was homecoming night in Trumann as the Pocahontas Redskins came to town and played spoilers for the Wildcats. After a defensive battle the first half, the visitors found the end zone three times in the second half on their way to a 28-6 win.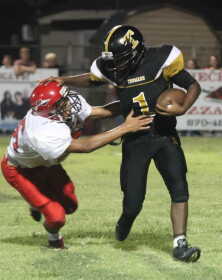 Trumann (0-4) got on the board first as they forced the Redskins to punt and then drove down into Pocahontas territory. Trumann fumbled the ball only to see Jesse Buchanan scoop up the ball and race 27 yards for a touchdown with 1:24 left in the opening quarter. The point-after was blocked leaving the 'Cats up 6-0. Trumann recovered the their onside kick attempt to have first and ten at the Pocahontas 44-yard line.
Trumann was forced to punt early in the second quarter and Pocahontas took over at their own 10-yard line. The Redskins struck fast as they completed a 76-yard pass play with 10:04 left to tie the game. The point-after was good making it 7-6 Pocahontas. The Wildcats drove down to the Redskins 18-yard line before turning the ball over on downs with 5:38 left before half. Both team's defenses stiffened and the teams with to half with the Redskins up 7-6.
Trumann couldn't muster much offense to start the third quarter and were forced to punt. Pocahontas got another touchdown pass for 46 yards with 8:08 left to go up 13-6. The point-after was again good making it 14-6. The 'Cats fumbled the ball with 6:56 left in the quarter to give Pocahontas the ball on the Trumann 45-yard line. The Redskins drove down field and scored with 1:07 left. The point-after was good to make the score 21-6 Pocahontas.
The fourth quarter saw the teams trade possessions for the most of the quarter. Pocahontas scored the final points of the game with a rushing touchdown with 4:16 left in the game. The point-after was good setting the final score at 28-6.
"The kids competed hard against a well coached Pocahontas team," Trumann coach Scott Waymire said after the game. "We can't give up big plays. The kids are getting better each and every week," Waymire added. "We are going to play with PRIDE every game and make the folks of Trumann proud of us," said Waymire.
Buchanan led the Trumann offense with 85 yards rushing and a touchdown. Justin Liles recored seven and a half tackles on defense with Trey Moody finishing with six and a half tackles.