Junior Hornets fall on homecoming
Friday, October 11, 2013
Harrisburg hosted Manila on homecoming night in junior high football action last Thursday. The Junior Lions jumped out 14-0 halftime lead on their way to a 22-6 victory.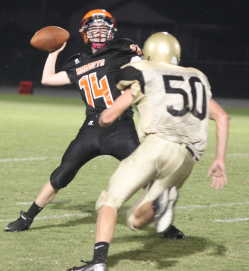 Harrisburg got the ball first and looked to have hit pay dirt early as Malik VVersie broke free for a 75-yard touchdown run. The play was called back due a penalty and the Manila defense stiffened and forced the Junior Hornets to punt with 2:54 left in the opening quarter. Manila started their first series at their own 48-yard line and drove down the field and scored with 44 seconds left. The two-point conversion was no good leaving the score 6-0.
Versie had a couple nice runs early in the second quarter before breaking loose on a 33-yard touchdown run only to see it brought back due to a penalty. The Junior Hornets saw the rally stopped when Clay Wright's pass was intercepted giving the Junior Lions the ball on their own 24-yard line with 4:55 left before halftime. Manila added another score and two-point conversion to take a 14-0 lead at the half.
Manila got the ball to start the second half and drove down for another score. The two-point conversion stretched the Junior Lions lead to 22-0 with 4:41 left in the third quarter. Harrisburg put together a good drive and got down to the Manila 11-yard line. Facing fourth and eighth, the Junior Hornets go for it only to see their pass intercepted to end the drive with 1:09 left.
Harrisburg got on the board in the final quarter as they held Manila on downs and took over on the Junior Lions 45-yard line with 7:41 left to play. Dakota Lee hooked up with Hunter Harris on a 27-yard pass play that put the ball on the Manila two-yard line. Versie took the ball in from two yards out with 2:36 left. The two-point conversion was no good to set the final score at 22-6.
"We can't have penalties that cost us scores," Harrisburg coach Sean Hammond said after the game. "We have got to get that killer instinct," Hammond added.
Versie led the Junior Hornets offense with 120 yards rushing on the night.