Weiner celebrates 37th year of Arkansas Rice Festival
Friday, October 18, 2013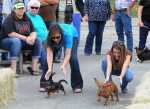 Delicious rice dishes, beauty queens and racing Wiener dogs. Where else but Wiener during the 37th annual Arkansas Rice Festival held Oct. 12. Even rain, including a few downpours, did not hamper the enthusiasm of the crowd filling the streets. During the heaviest rain the inside exhibits, including the rice lunch was the place to be.
Miss Arkansas Rice 2013, Jenna Martin of Hickory Ridge, was there to meet people and talk about her favorite rice recipes. The antique tractors and machines were a hit with everyone. Many of the attendees remembered using the machines in their younger years. Of course the wiener dog races as always were a crowd favorite. Oscar and his owner Stan Mitchell of Jonesboro came away with the title. It was Oscar's second win.
People came from all over to visit friends, have reunions, and just have a lot of fun in Weiner. Citizens enjoyed entertainment, contests, food, crafts, and share lots of memories of days gone by. Even the gloomy weather could not prevent smiles on the faces of kids of all ages.