Three Rivers welcomes new resident
Saturday, October 19, 2013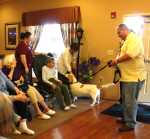 Arkansas Paws in Prison, in partnership with Paws 4 Seniors and Paws 4 Hope, made a very special delivery to the Three Rivers Nursing Home in Marked Tree on Thursday, Oct. 10. PIP (Paws in Prison) graduate 'Moose' made his grand entrance around 1 P.M. that afternoon. Moose is a very loving basset hound mix. Moose immediately made himself at home mingling with the other residents and meeting the staff.
One of the residents said, "I feel like I am back at home now." Many residents expressed their sadness at leaving behind a beloved pet when they moved into Three Rivers. Moose will certainly make life more enjoyable for everyone.
The Arkansas Department of Correction Paws in Prison program is a partnership with animal shelters and advocate groups in the state. Selected offenders, under the guidance of professional dog trainers, work with rescue dogs, teaching them basic obedience skills and properly socializing the animals. Each year in Arkansas, hundreds of homeless dogs are euthanized. Paws in Prison reduces the number by providing loving, obedient, adoptable pets.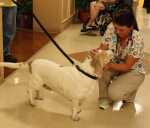 The benefits of this program are three-fold. Paws in Prison gives inmates the skills necessary to support successful rehabilitation and reentry -- and ultimately improves public safety. At the same time, it is an opportunity for the inmates to re-pay Arkansas communities and repair some of the debts caused by their crimes. Since the program began Dec. 8, 2011, ADC has seen a positive impact on relations between inmates and staff, which ultimately improves security.
Information on PIP dogs is available by choosing the Paws in Prison icon on ADC's website, adc.arkansas.gov, and following the adoptable dogs links.
Senior Works, which provides services to nursing homes around the state, sponsors the program Paws 4 Seniors. Senior Works is based in Little Rock.
Paws in Prison is a unique program made possible by the Arkansas Department of Correction and animal rescue groups across the state. Paws in Prison is a non-profit program of the Arkansas Department of Correction, supported only by private donations.
Each year, thousands of homeless dogs are euthanized in animal shelters. Most of PIP dogs come from these shelters. Dogs considered for the program are psychologically assessed by professional dog trainers before being placed with a team of inmates who will train and socialize the dogs under the guidance of professional trainers. This program saves the dogs and prepares them for adoption, while providing inmates with new skills and opportunities to do something positive while incarcerated.
Paws 4 Seniors resident dogs can provide psychological and physiological benefits associated with pet therapy and pet ownership. Canine companion dogs undergo careful evaluation and thorough training to be well suited to living in a nursing home environment.
The dogs chosen for this special assignment may be any age or breed. They are well mannered and naturally friendly with people of all ages as well as other dogs who may reside at or visit the facility. Their primary role is to share their love and bring a smile to all they meet.
Pet therapy also known as animal assisted therapy simply involves human and animal interaction. This type of interaction is proven to provide health benefits for those who are chronically ill, live with disabilities, have mental or emotional challenges which can include the elderly population.
It is common to find seniors living in nursing homes with chronic depression which can be caused from many reasons. Seniors can feel a sense of isolation from family, friends, and pets they once knew especially if they do not see their families or friends as often as they used to. Their independence and activities of daily living have changed and all of these factors can cause a decline in their overall health.
The dogs used in the Paws 4 Seniors program provide affection and unconditional love to the nursing home residents which also brings out smiles, lowers blood pressure and brings a heart rate to a normal range.
With this type of interaction, residents can forget about their loneliness and problems even for a few hours not to mention the increase in socializing skills and physical mobility.
With a canine companion, the quality of life has been proven to offer benefits to just about anyone especially those living in nursing home facilities. The residents and staff at Three Rivers look forward to enjoying special time with their new friend.