Marked Tree middle school beats the odds
Monday, October 21, 2013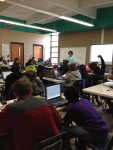 Each year, the Office for Education Policy highlights the excellent performance around the state in their annual Arkansas Education Report entitled the Outstanding Education Performance Awards. This year, Marked Tree Middle School was recognized with the "Beating the Odds" OEP award.
According to the OEP website, the award is based on a school GPA, calculated on the basis of the percentage of students that perform at a particular level on the Benchmark exam. "Beating the Odds" awards are given to high-achieving schools that are classified as high-poverty.
"If a teacher has those high expectations of students coming to class and excelling, then you can overcome poverty," said Matt Wright, Marked Tree High School principal. "Our teachers and students have done that."
Marked Tree Middle School was ranked 11th in the state with their overall test scores in math. Wright said the statewide average middle school math GPA was 2.82, while Marked Tree's GPA was at 3.15. Also, the individual 8th grade class was recognized for their performance in math and literacy. The class was first in the state's top five high-poverty schools in Arkansas with their achievement in math. The class was also recognized as second on the list for literacy.
In math and literacy, 88% of the eighth graders scored proficient or advanced on the benchmark.
"I feel like a lot of it has to do with the implementation of New Tech," said Lisa Gray, assistant principal for Marked Tree Middle School. "We've been doing problem-based learning in the classrooms, and the students are doing more hands-on assignments. Also, the teachers will not allow them to not do their work."
Gray added the teachers hold their students accountable in all of their classwork and homework. They do this by helping the students work on problems, not until they get an answer, but until they get the right answer.
"That persistence helps the students strive to be better," Gray said.
Marked Tree High School joined the New Tech Network last year, with a goal for students to use hands-on projects with technology to learn. Both Gray and Wright agreed that the benefits of this implementation can be seen with their current status in test scores.
"We have exceptionally strong instruction with great teachers and we have a great group of kids, and it feels good to be recognized for that," Wright said.