Donald McKenzie
Thursday, October 17, 2013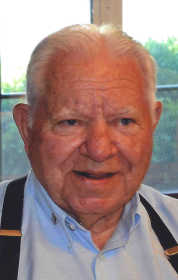 TRUMANN - Mr. Donald Thomas McKenzie, 78, died Friday, October 11, 2013 at NEA Baptist Memorial in Jonesboro. He was born in Marked Tree, Ark., and lived most of his lifetime in Trumann. Mr. McKenzie was a retired contractor, veteran of the U.S. Army, a 32nd degree Mason and a member of the Pleasant Valley Baptist Church near Trumann. He was preceded in death by one grandson, Joshua Thomas McKenzie; two brothers, Travis and Otis McKenzie; and his parents, John Edward and Elzia Arbell McCrory McKenzie. He is survived by his wife of 56 years, Elwanda Jo Roberts McKenzie of the home; one daughter, Karen Elizabeth (Beth) and husband Roger Josam of Jonesboro; one son, Thomas Mitchell and wife Sheila McKenzie of Monette; one brother, Willie Gene McKenzie of Trumann; 4 grandchildren, Lauren Sawyer, Cody McKenzie, Alexandria Saunders and Andrew Josam; and 5 great-grandchildren.
Funeral services were October 15 in the chapel of Thompson Funeral Home in Trumann with Rev. Larry Loggins officiating. Burial followed in the Nettleton Cemetery in Jonesboro.
Pallbearers were Jerry Lowery, Lamon Moye, Gene Terry, Matt Valentine, Bill Wagner, Jay Roberts, Larry McMullin and Robert Bufford.
Honorary pallbearers were the men of Pleasant Valley Baptist Church, Mark Roberts, Lee Teague, Carl Whitt, Ted Boyer and Jerry Treadaway.
An online register book can be signed www.thompsonfuneralhome.net