Red Wolves get by Idaho
Friday, October 18, 2013
Arkansas State used three fourth quarter scores to pull away from Idaho for 48-24 victory. Idaho had cut the lead to 31-24 but J.D. McKissic electrified the crowd with a 98-yard kickoff return for a touchdown that knocked the air out the Vandals.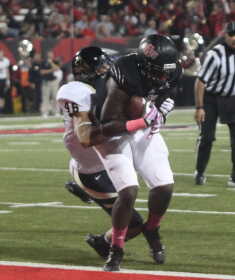 ASU got of the gate quickly as Adam Kennedy hit Julian Jones for an 80-yard touchdown on the Red Wolves first play of the game. Brian Davis added the first of his six extra-points to make it 7-0 11 seconds in to the game. Kennedy found McKissic for a 13-yard touchdown with just under eight minutes left. The point-after was good to make it 14-0 ASU. Idaho got on the board with a four-yard touchdown run from James Baker with 1:29 left in the opening quarter. Austin Rehkow was good on the extra-point to make 14-7 ASU after the one quarter of play.
It was all Red Wolves in the second quarter as they scored 10 points to take a 24-7 lead into the half. Davis booted a 38-yard field goal to make it 17-7 with 6:43 left in the second quarter. Kennedy then found his tight end Dario Griswold for a 13-yard touchdown pass with 2:13 left before half. The successful extra-point made it 24-7 Red Wolves.
ASU stretched their lead to 31-7 as Kennedy found Griswold again with a one-yard touchdown pass at the 10:48 mark of the third quarter. Idaho got a 28-yard field goal from Rehkow to make it 31-10 with 7:09 left. The Vandals cut it to 31-17 with a 15-yard touchdown pass from Taylor Davis to Dezmon Epps with 4:09 left in the third quarter.
Baker capped of nine play 74 yard Idaho drive with a one-yard touchdown run 38 seconds into the fourth quarter to make the score 31-24. McKissic then took the ensuing kickoff and returned it 98-yards for a score putting ASU up 38-24. Davis added a 21-yard field goal with just over six minutes left and David Oku scored on a three-yard run with two and half minutes left to set our final at 48-24.
Sirgregory Thornton led the Red Wolves rushing attack with 86 yards on 13 carries. Oku finished with 70 yards on 17 carries and a touchdown. Kennedy completed 22 of 42 passes for 375 yards and four touchdowns and one interception. McKissic caught 9 passes for 80 yards a touchdown, Griswold nabbed 5 balls for 89 yards and two touchdowns while Jones had four receptions for 135 yards and a touchdown.
Qushaun Lee finished with 15 tackles as Kyle Coleman recorded nine tackles. Ryan Carrethers, Chirs Odom and Dexter Blackmon each had a sack. Rocky Hayes had an interception for ASU.