Trumann sunk by Pirates
Friday, October 18, 2013
Trumann (0-6, 0-3 4A-3) hosted the Gosnell Pirates in a 4A-3 conference game this past Friday night at Wildcat Field. The visitors scored on every possession of the game as they downed the Wildcats 49-8.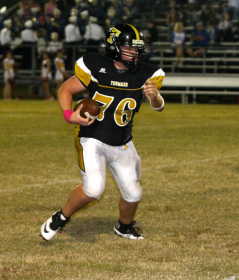 Gosnell got on the board first as they scored with 9:56 left in the opening quarter. The extra-point was good to make it 7-0 Gosnell. Trumann moved the ball well but fumbled the ball way inside the Gosnell 20-yard line with a little over five minutes left. Gosnell capitalized on the turnover as they drove down field and scored with 4:07 left. The point-after made it 14-0 Pirates. Trumann again had ball handling troubles as they fumbled in their own territory with Gosnell recovering at the 'Cats 32-yard line with 2:43 left in the first quarter. Gosnell went to the air to score their next touchdown with 2:10 remaining. The extra-point gave the Pirates a 21-0 lead. Trumann couldn't get anything going on their next series and had to punt with 34 seconds left. Gosnell led 21-0 and had the ball to start the second quarter.
Gosnell added three more touchdowns in the second quarter as their defense didn't allow Trumann's offense to gain much. Gosnell scored with 11:16 left in the quarter and with the extra-point went up 28-0. Gosnell blocked a punt to set up their next score which came with 6:24 left before half. The point-after made it a 35-0 game. Gosnell punched the ball in more time with 26 seconds left in the half. The point-after made it 42-0 Gosnell at the half.
The mercy rule was in effect the second and each team ended up with one possession each. Trumann avoided the shutout as Jesse Buchanan scored on a 21-yard run with 3:58 left in the third period. Trey Moody added the two-point conversion run to make it 42-8.
Gosenll put the final points on the board with a touchdown with 3:51 left in the game. The extra-point made the final score 49-8.
"We had a good drive early before hitting a little adversity and the kids didn't respond well to it," Trumann head coach Scott Waymire said after the game. "I was kind of disappointed in how they handled it (adversity). We kept fighting back even though I thought they felt sorry for themselves. We came back and played a better second half and competed. Come Monday we'll get ready for Valley View," Waymire added.
Buchanan led the Wildcats offense with 50 yards rushing and a touchdown on the night. Moody chipped in 37 yards rushing and Grayson Dye finished with 26 yards on the ground. Willie Moore led the defense with four tackles and Justin Liles tallied three tackles on the night.