Big second half carriers Junior Wildcats to win
Thursday, October 24, 2013
Trumann's defense only allowed six second half point as the running game produced 22 second half points to help the Junior Wildcats (3-4) come away with a 38-36 win over Brookland last Thursday in Brookland.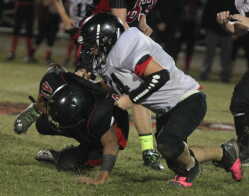 Trumann opened the game with an onside kick as the Junior Bearcats recovered at the Trumann 45-yard line. Brookland drove the ball down to score for a 6-0 lead. The two-point conversion was good to make it 8-0 with 6:57 left. Trumann started their first series on their own 25-yard line. The Junior Wildcats fumbled the ball with Brookland recovering at the Junior Wildcats 34-yard line with 6:00 left in the quarter. Brookland capitalized as they extended the lead to 16-0 with a touchdown and two-point conversion with 3:19 left in the opening quarter. Garrett Woods gave Trumann good field position bringing the kickoff out to the 40-yard line. Coty Buckner broke free for a 24-yard run on first down to move the ball down inside Junior Bearcat territory. Koltan Jones got Trumann on the board as he took a double handoff and raced 32 yards for the score. Cade Gartman added the two-point conversion to make it 16-8 with 19 seconds left in the opening quarter.
Brookland wasted little time in the second quarter scoring on a long run less that 30 seconds into the quarter. The successful two-point conversion made it 24-6 with 7:32 left. The Junior Wildcats cut the lead to eight as Gartman scored on 30-yard run and then added the two-point conversion run making it 24-16 with 1:45 left. Brookland responded with another touchdown with three seconds left before half. The Junior Bearcats extra-point attempt was no good as they took a 30-16 lead into halftime.
Trumann used over five minutes on opening drive of the third quarter as Jones scored on a 17-yard run with 2:45 left. Gartman added the two-point conversion run to make it a 30-24 game. Brookland answered with a touchdown with 47 seconds left in the quarter to make it 36-24. The two-point conversion was no good.
The Junior Wildcats converted on fourth down early in the fourth quarter before Gartman rumbled for 32 yards down to the Brookland 28-yard line. Buckner covered the final 28 yards for a touchdown with 6:48 left in the game. Gartman again added the two-point conversion to make the score 36-32 Brookland. Jarred Carter had a big four yard tackle for loss on Brookland's first play that was followed by a bad snap by the Junior Bearcats that lost 15 yards. Trumann forced Brookland to punt and took over at their own 38-yard line. Gartman broke loose for a 60 yard run down to the Brookland two-yard line. A penalty backed Trumann up five yards before Woods scored on a seven-yard quarterback keeper to give Trumann a 38-36. The two-point pass play was no good. Brookland moved the ball into Trumann territory with less than a minute left. Preston Heavener got through the line and sacked the Brookland quarterback causing a fumble that he recovered himself with less than 20 seconds left. Trumann kneeled on the ball for the final play of the game.
"We gave up to many big plays," Trumann coach Cody Wallis said after the game. "Defensed played good the second half only giving up six points. Heavener had a heck of a ball game at defensive tackle. Our offense was clicking tonight, but it all starts on defense," Wallis added.
Gartman led the Trumann offense with 164 yards rushing with a touchdown and three two-point conversion runs. Jones added 73 yards rushing with two touchdowns and a two-point conversion run as Buckner rushed for 69 yards and a touchdown. Jon Light had 49 yards on the ground with Woods finishing with 34 yards rushing and a touchdown.
Jeremiah Allred had six tackles to lead the defense. Carter had 5 and a half tackles including a sack and Heavener had three tackles with a sack, forced fumble and fumble recovery.