Louisiana-Lafayette runs by Red Wolves
Thursday, October 24, 2013
The Ragin' Cajuns controlled every aspect of the game against Arkansas State on their way to a 23-7 win this past Tuesday night at Liberty Bank Stadium in Jonesboro. ULL finished with 470 total yards which included 265 yards rushing.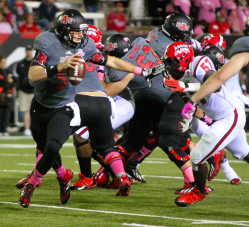 ULL jumped out a 10-0 first quarter lead as Steven Brauchle hit a 36-yard field goal with 9:30 left in the the opening quarter. Alonzo Harris scored from three yards out and Brauchle added the point-after to make it 10-0 with 1:11 left.
Harris scored again from three yards out with 10:44 left. Brauchle made it 17-0 with the extra-point. ASU got on the board with 3:39 left before half as Adam Kennedy scored on a three yard quarterback keeper. Brian Davis added the extra-point to make it 17-7 ULL. Brauchle added a 38-yard field goal as time expired in the second quarter to give the Ragin' Cajuns a 20-7 halftime lead.
The only points scored in the second half were a Brauchle 30-yard field goal with three seconds left in the third quarter.
The Red Wolves were held to 168 yards total offense on the night. Michael Gordon led the Red Wolves in rushing with 31 yards as Kennedy finished with 24 yards on the ground a touchdown. Kennedy completed 11 of 20 passes for 89 yards and an interception.