Gartman leads Trumann to win over Cave City
Friday, November 1, 2013
Cade Gartman came up big on both sides of the ball in helping the Junior Wildcats to a 16-14 conference win over Cave City last Thursday at Wildcat Field. Gartman's second touchdown of the night and two-point conversion run gave Trumann (4-4) the lead and his big play on defense secured the win.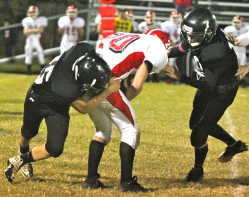 The teams traded possessions mostly in the opening quarter and it looked as if Cave City would take the early lead as they drove to the Trumann eight-yard line before fumbling the ball over to Trumann. The first quarter ended with the score 0-0.
Gartman appeared to have a nice 52 yard touchdown run in the second quarter but it was called back due to offsetting penalties. Gartman found the end zone on a four yard run with 2:09 left before half. Koltan Jones ran in the two-point conversion to make it 8-0 Junior Wildcats. Cave City tied the score with five seconds left in the first half on a touchdown run and successful two-point conversion pass making it 8-8 at the half.
Jarred Carter fielded the Junior Cavemen's onside kick to start the second half setting Trumann up on their own 47-yard line. Gartman fumbled the ball and Cave City fell on it with 7:05 left in the quarter at the Junior Wildcats 49-yard line. Cave City used run and run to drive down the field and take lead at 14-8 with 1:37 left. The two-point conversion was no good.
Trumann started the fourth quarter facing fourth and four from their own 41-yard line. Gartman broke free and took it 41 yards for the touchdown with 7:50 left. Gartman added the two-point conversion run to make it 16-14 Trumann. Cave City faced fourth and one with 4:48 left. Cave City's quarterback dropped back to pass and Gartman rushed in and hit him as he was throwing the ball. The pass fell incomplete and Trumann took over on downs. The Junior Wildcats were able to run the clock out for the 16-14 victory.
"This was a BIG WIN!" Trumann coach Cody Wallis said following the game. "We knew it was going to be a tough, smash mouth football game. We got back to .500 with this win and have one game remaining. I couldn't be happier with the win, the guys battled hard all," Wallis added.
Trumann rushed for 211 yards led by Gartman's 80 yards. Gartman also had two touchdowns and a two-point conversion. Garrett Woods had 56 yards and Jones finished with 47 yards and a two-point conversion.