Warriors roll to win on homecoming night
Friday, November 1, 2013
It was homecoming night in Lepanto and the EPC Warriors (8-0, 5-0 2A-3) did not disappoint the hometown crowd as they cruised by Augusta 59-6 to remain undefeated on the season. The Warriors offense rolled up 480 yards and the defense forced six turnovers.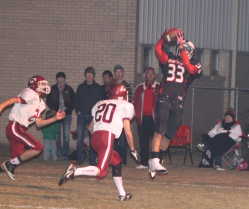 Byron Scales opened the game with a nick kick return to near midfield before coughing up the ball. Augusta recovered the fumble at their own 47-yard line. EPC's defense forced Augusta to punt and took over at their own 27-yard line. Trevor McDaniel ripped off a 20 yard run before Aaron Scales hit Seth Lacy with a deep pass putting the ball on the Red Devils 24-yard line. Aaron Scales finished off the drive with a four yard touchdown run with 4:10 left in the first quarter. Byron Scales added the two-point conversion run to make it 8-0 EPC. The Warriors defense again forced Augusta to punt on their second series. EPC gave the ball right back as another fumbled was recovered by August on the EPC 29-yard line with 1:47 left.
EPC's defense stopped Augusta's possession as Quinn Young intercepted a pass in the end zone and returned it out to the 34-yard line with 9:34 left. The Warriors took advantage of the turnover as they drove down and scored on an Aaron Scales to Quinn Young 16 yard touchdown pass. Aaron Scales ran the two-point conversion in making it 16-0 with 6:48 left before half. The Warriors defense forced another Augusta punt and took over at their own 30-yard line. Aaron Scales wasted little time as he hit is brother Byron on a slant route that went 70 yards for a touchdown with 4:17 left. McKenzie Betts caught Aaron Scales two-point pass for a 24-0 Warriors lead. Augusta fumbled the ball on their next possession and Trevor McDaniel picked it up and returned it to the Red Devils 42-yard line. A face mask penalty moved the ball down to the 27-yard line. EPC again wasted little time as Aaron Scales again found his brother Byron for a 27-yard touchdown pass on the first play following the turnover. Trevor McDaniel ran in the two-point conversion to make it 32-0 Warriors with 1:32 left in the half.
Augusta got the ball first in the third quarter and set up on their own 29-yard line. The Red Devils fumbled on the first snap and Baugus came up with the fumble recovery at the Augusta 27-yard line. Byron Scales scored his third touchdown of the night with 10:28 left in the third on an 18 yard touchdown run. Betts point-after kick was blocked to leave the score 38-0 EPC. The mercy rule was invoked after this score. Augusta got on the board with a touchdown pass with 6:47 left in the third. The two-point try was no good to make the score 38-6. EPC answered with drive that ended with Corbin Truelove hauling in a 16-yard touchdown pass from Aaron Scales with 2:51 remaining. Betts added the point-after making it a 45-6 lead for EPC.
EPC added two more scores in the fourth quarter as Clay Malone scored on an 18-yard run with 10:25 left. Betts made it 52-6 with the extra-point. Baugus recovered his second fumble of the night before Kyler Gordon scored from six yards out with 2:50 left. Betts set the final score at 59-6 with his point-after.
"Defense was great, they kept getting our offense on to the field and we were clicking," EPC coach Brian Weathers said after the game. "Aaron Scales is on the money right now throwing the football, Trevor McDaniel is running hard, and our offensive line is looking better each week. We have not punted in 3 weeks. I thought we had great energy, especially on the defensive side," Weathers added.
Aaron Scales led the EPC offense hitting 10 of 11 passes for 253 yards and four touchdown passes. He also had a touchdown run along with a two-point conversion run. Trevor McDaniel rushed for 117 yards and a two-point conversion run. Malone and Gordon each had a touchdown run. Byron Scales finished with 116 yards receiving and two touchdowns while also scoring a rushing touchdown and a two-point conversion. Truelove and Quinn Young each had a touchdown catch. Betts had a two-point conversion reception and kicked three extra-points.
On the defensive side, Aaron Scales had 10 tackles (nine solo) and a fumble recovery. Byron Scales finished with eight tackles. Quinn Young had two interceptions and Baugus recovered two fumbles for the Warriors.