Lions raise money for visually impaired
Saturday, November 9, 2013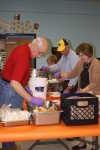 The Trumann Lions Club held their 37th Annual Barbecue Saturday, Nov. 2, serving over 1,500 people.
"We just want to thank the community for all of their help," said Ronnie Harrison, Lions Club President. "All of this wouldn't be possible without them."
The barbecue is the Lions largest fundraiser of the year with all proceeds going toward the care and treatment of the blind and visually handicapped for eyeglasses, eye surgery and job training.
Lions Club member and Superintendent of Trumann Public School District Myra Graham said she is very grateful for all the Lions work. With their fundraising efforts, they provide eye glasses to children in need in the community which helps the schools.
This year, the barbecue was held in honor of Bill Teague, club member of 50 years and founder of the barbecue.