Author Pays Tribute to Trumann
Sunday, November 10, 2013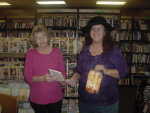 The Trumann Library was the natural place for author Violet Burleson of Paragould to pay tribute to her childhood home. Violet returned to her childhood home Nov 1 to present the Trumann Library with copies of her two books and a check for $100 in honor of her 4th grade teacher, Miss Lane.
When first told Miss Lane would be her teacher she was terrified because she looked so mean. Miss Lane turned out to be the best teacher she ever had. Her teacher was a big influence in her life.
"She saw something in me and told me to keep going. To never give up hope", Burleson said.
Violet came from a large family with seven sisters and six brothers. They moved a lot sometimes living in the "projects". The family moved to Trumann three times. They were always "country folk" so would go back to the country when they could. Of all the houses they lived in only two remain standing today. One is on Redwood in Trumann and the other in Lunsford. Burleson also wants to honor the people living in these homes with copies of her books and a monetary gift.
Burleson said, "After we packed up everything we would scrub the house down from top to bottom and say a prayer for the next family to live in that home." Her mother instilled values and taught them common sense.
Burleson is the author of "True Eyes" in 2012. The book is about common sense things for young people and adults. Recently Rexella Van Impe, with Rex Van Impe Mininstries International endorsed her new book "Tribulation", a story about a young unsaved couple going through the tribulation. Both books were published by Author House and are available at book stores and online. Hastings in Jonesboro will have a book signing Nov 19 from 2-5 p.m.
Today she and Harvey, her husband of 24 years, live in Paragould and are blessed with an abundance of nieces and nephews.