It Was a Dark and Stormy Night
Monday, November 11, 2013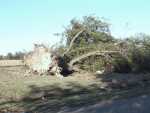 It was a dark and stormy night. The streets were filled with ghouls and goblins of all kinds, even a princess or two visiting door to door to collect candies from friendly faces around town. Just your typical Halloween night, a little chillier than normal for this time of year but that didn't stop festivities in the small town. Close to 7 p.m. when all the costume age kids returned home to examine all the goodies they'd received, the older kids took to the streets and began their infamous shaving cream battle. Smearing shaving cream from head to toe on anyone who dares to go down Main Street Halloween night is a long standing "trick" for Caraway teens.
"We had only been home ten minutes at the most. When we walked through the door the weather was fine. It wasn't even cloudy. I wondered if I should let my kids go down the street with their friends considering how cold it was getting. I didn't want them sick from getting wet by the shaving cream. They promised not to be out late and said if it got cold they would come inside.
Around 7:30 p.m. I was sitting in the living room of my mother's house with my brother, his wife, my mother and grandmother teasing my six year old nephew about eating all his candy. The lights flickered for a second then just went out. Several of us just assumed my 13 and 14 year old children were pulling a Halloween prank. That was not the case. Angel, my 14 year old daughter and her best friend, came running in the house screaming hysterically. All we could make out she was saying was tornado. We still thought this was a prank because she went on to tell us her brother, Harley, was still out there and there was a tornado", said Jenifer Stephens of Caraway.
Angel kept saying, "I can't get the door open, he's still out there." If you knew my kid's you'd understand why we were so skeptical and why we still thought it was all a prank. My sister in law played along (or so she thought) and opened the door expecting my son Harley to jump out and surprise her. She opened the door and the wind slammed it shut in her face. We all heard the tornado sirens", said Stephens.
When it sank in that the kids weren't playing around Stephens pretty much lost it. Her 13 year old son was out in the bad weather alone. Stephens began to question her daughter and tried to figure out where her brother could be. He did not answer his cell phone.
"My brother started out the door to go find Harley. About the time he reached for the doorknob the windows in the house shattered. My sister-in -law instructed all three of the kids to get into the bathroom. I ran and got all the blankets and pillows from the bedroom and put them on top of the children in the bathtub. I don't know how the other two kids were staying so calm. I was screaming, Angel was screaming but all my six year old nephew could say was 'Jennifer calm down we are all Christians and God is going to take care of us" , Stephens said.
Stephens said she could hear horrible noises coming from outside but there wasn't anything she could do to try and protect her son.
"Our cell phones started blowing up. Friends from out of town were seeing the weather reports on KAIT and were calling to check on us. It was all over in a matter of minutes. When the wind died down my brother went to check outside and on his way reaching for the doorknob again my son rushed in through the door. The look on his face was horrifying. I began to yell at him for being gone and not coming home when his sister did, but something came over me and I just hugged both my kids and told them I was so glad they were ok", said Stephens.
Stephens said the town was pitch black and while they had all assumed the wind from the storm had gotten pretty bad, they never actually expected it to be a tornado. Caraway was quickly issued a disaster area due to power lines being down on just about every street. Emergency response teams worked though the night clearing the power lines and the massive trees that had fallen across roadways. It was close to noon the next day before the storm damage had actually been ruled an EF1 tornado. Caraway residents remained without power till late Sunday night.
This Halloween night will be remembered for years to come by the residents of Caraway. No lives were lost only property damage. Caraway is thankful this frightening tale has a good ending.