Junior Hornets sting Mustangs
Friday, November 8, 2013
Malik Versie played his last game as a junior high football player last Thursday. He made it a game he'll never forget as he rushed for 291 yards on 14 carries while scoring four touchdowns and a two-point conversion as Harrisburg (2-7) ended their season on a winning note beating Hoxie 28-12 at Hornet Stadium.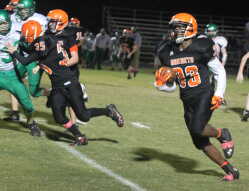 Hoxie got on the board first as they took the opening kickoff and ran (all plays were runs) down the field and scored on an 18-yard run with 4:13 left in the quarter. The two-point try was no good leaving the score 6-0 Junior Mustangs. Walker Brown gave Harrisburg good field position returning the kickoff out to the Junior Hornets 43-yard line. Versie and company answered the Hoxie score as Versie took the handoff and went 44 yards for a touchdown with 2:40 left. Clay Wright's two-point pass to Keifer Nelson was incomplete leaving the score tied at 6-6.
Hoxie took the lead with a 25 yard touchdown run with 5:25 left in the second quarter. Nelson made a good play to stop the two-point conversion run to make it 12-6 Hoxie. Harrisburg again answered the Hoxie score with a 23 yard Versie touchdown run with 3:48 left before half. Versie added the two-point run to make it 14-12 Harrisburg. The Junior Hornets defense stopped Hoxie on fourth down and took possession on their own 46-yard line with 1:59 left. Harrisburg drove down to the Hoxie 13-yard line but were denied a score sending the teams to half with Harrisburg up 14-12.
Harrisburg got the ball to open the third quarter and Versie didn't waste much time going 62 yards for the score less than a minute into the quarter. Wright's pass to Harris for two points was no good making the score 20-12 Harrisburg. Hoxie drove down to the Junior Hornets 36-yard line, converting a fourth down along the way, before turning the ball over on downs with 1:35 left in the third quarter.
Harrisburg started the final quarter on the Hoxie 29-yard line. Backed up to the Hoxie 38-yard line, Versie struck again with his fourth touchdown of the night going 38 yards for the score. Wright connected with Nelson for the two-point conversion pass to make it 28-12 Harrisburg. Neither team could muster much offense for the remainder of the quarter as Harrisburg went on to claim the victory.
Versie not only shine on offense, he added 10 tackles from his linebacker position to pace the defense.
"Good to win your final game and go into off-season on a positive note," Harrisburg coach Sean Hammond said after the game. "Versie runs the ball hard and we are thankful of he job he has done all year for us," Hammond added.