Ada Justine Alexander Watson
Tuesday, November 12, 2013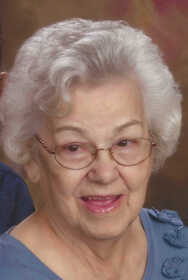 TRUMANN - Mrs. Ada Justine Alexander Watson, 87, of Trumann passed away October 30, 2013. Ada's life began October 2, 1926 in Trumann, Ark. She was the first daughter of Joe Mack and Queenie Bell Foulks Alexander. She graduated from Trumann High School and worked at Singer Mfg.
She met Utah Watson when she was 15 and when he returned from the Navy they married November 3, 1945. They soon moved to Michigan where they spent the next 20 years raising their daughters but always wanted to return home to Arkansas.
Ada enjoyed country music and was always ready to go to a concert. She loved the summers she spent with her grandchildren on their farm in the Ozarks and making special treats for the holidays. She was preceded in death by three brothers, Edward, Charles Roy and Joe Alexander; one sister, Linda Moore and her parents.
Her greatest joy was her family. She was always ready for a family get together--many memories we will never forget. She is survived by her husband of 68 years, Utah C. Watson; two daughters, Donna (Willie) Eubanks of Marion and Jerry (Victor) Bolinger of St. Joseph, Mich.; five grandchildren, Todd (Shannon) James, Jason Eubanks, Karla James, Dana Bolinger and Jesse (Jess) Holston; four great-grandchildren, Lola Winn, Ryan and Cole James, Colette and Max Holston and Miya Miller, four sisters, Susie (Junior) Roach, Joy (James) McCain, Nancy (Haskel) Jerrolds and Barbara (Sammie) Ishmael, brother-in-law Gerald Watson, sister-in-law Geneva Alexander and a host of nephews, nieces cousins and friends.
Funeral services were November 2 in the chapel of Thompson Funeral Home with Gary Hill officiating. Burial followed in Oaklawn Cemetery in Jonesboro.
Online guest book can be signed at www.thompsonfuneralhome.net