Morgan, Sanders win roping title
Friday, November 15, 2013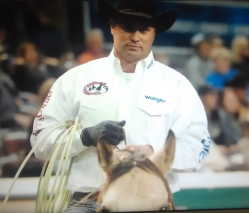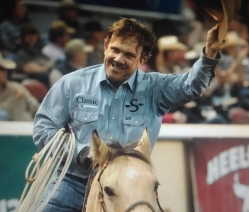 Taylor Morgan of Trumann and Heath Sanders of Leachville have been roping and been around horses since they were kids. All the hours of hard work along with the sweat and blood that has been lost paid off as the duo claimed the United States Team Roping Championship (USTRC) on October 26 at the event held at the Oklahoma State Fairgrounds in Oklahoma City, OK.
The team made four cleans runs and finished with a total time of 34.81. They won $121,000 along with a saddle and beat buckle for each of them.
Morgan and Sanders are like brothers. Though they may not be brothers, the horses they ride on are. Cowboy (Morgan) and Bucky, Jr (Sanders) were raised by Morgan at his ranch just outside of Trumann and he had nothing but praise for the animals. "They are really unique animals. The horses are athletic and sound minded," Morgan said. "It was special to win this event with Heath, but it was more special to have won on these horses," Morgan added.
I talked to the guys about how the event went and here are the thoughts. "You work hard all year for this event. We've together a long time and have had a lot of luck together over the years. God blessed us with this opportunity at this roping event. We knocked down three steers and came back as second high call. We drew a good but tough steer in the last round. We accomplished our goal we set for ourselves a long time ago," Morgan said. Sanders talked about how he gets before a big run. "I get nervous, but I think I rope better when I'm a little nervous. I'm at my best right before the big trophy run," Sanders said. Both men agreed whether it's for $50 or $100,000, getting that prize is what it's all about.
"We are athletes and we work hard everyday to get better," Morgan talked about what it takes in this business. Sanders added, "I run 50 to 100 steer a day, four days a week on 14 different horses to do what we just did. The grind makes it so satisfying when you get there."
Asked about the first thought in their minds when they won, each had a different look at it. "You want to ride out of the arena winners. I was tickled when they guy legged that last steer. Taylor didn't even watch the run," Sanders said. "I felt we were winners because we did all we could do," added Morgan.
Where do they go from here? Sanders said he was headed to Las Vegas for another roping event and Morgan said he was going to do some deer hunting. They will start training again to go back and try to win the USTRC again but they say there is an event in April they did well in last year and have the goal of winning it this year. The top prize in that event is a new truck and horse trailer for each of the winners.
Congratulations guys, hope next season sees you reach all your goals!