Marked Tree High School Veterans Tribute
Friday, November 15, 2013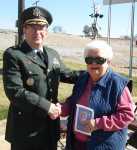 "We gather today to honor the men and women who have worn this nation's uniform. More importantly, we join together to thank them for their service and their devotion to duty", said LTC (retired) Clarence Overbay.
Overbay is the Senior Army Instructor for Marked Tree High School. He took pleasure in having his students pay tributes to local veterans with a small ceremony and presentation on Frisco Street in Marked Tree Nov. 11. Overbay talked about the more than 48 million American veterans who have served since 1776 including the ones who made the ultimate sacrifice for their country.
Nov. 11, 2013 marked the 60th year America has gathered to mark Veterans Day. While the name has changed over the years, its purpose remains unchanged: to remember the sacrifice of those who have died and to honor those who are still with us.
Veterans, citizens, elected officials and students gathered Monday in Marked Tree to pay tribute to veterans. The MTHS band played patriotic music and TAPS at the end of the program. The Presentation of Colors by the JROTC opened the program. Special music by the MTHS choir was performed. Prayer was led by Pastor Willie P. Sanders of Anderson Chapel Missionary Baptist Church.
"We owe so much to our veterans, and it is a debt we can never truly repay. Their stories are the story of our history, because America rose to greatness on their shoulders. We owe them our very way of life, our freedom to live, work and raise our families as we please. The very least we can do is to honor their sacrifices, and thank them for all they've done for this great country", Overbay said.
Not every veteran has seen combat, of course. But even in peacetime, they face dangers that most other Americans never know. Hazardous night-time training missions in high-speed fighter aircraft, rescuing crewmembers from downed aircraft, or providing relief supplies after a natural disaster all come with elements of risk. But they have important jobs to do, and thank goodness we have always had young men and women ready to do them.
"Our veterans are living examples of what it means to be good citizens. They have given us a lifetime of service, and the country has been enriched by their contributions, both in and out of uniform. And speaking of "citizen-soldiers," we are increasingly calling on the members of our Guard and Reserve to serve on the front lines of the War on Terrorism. We simply could not accomplish our mission without the help of the Reserve Component."
Overbay closed by saying, "To all veterans, we say, Thank you. Thanks for your sacrifices, for your sense of duty, and for your service. Our nation salutes you and we gathered here today salute you."