Lions hear about early childhood care
Monday, November 18, 2013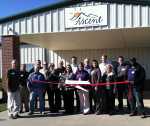 Kimberly Shipley, Customer Service Representative with Ascent Children's Health Services, spoke to the Lions last week about the importance that children receive early childhood care and the services offered by Ascent.
"This is something that is really being talked about on a national level as well as a local level. So much research has been done in the last few years that has shown how important early childhood intervention is to communities," Shipley said.
She explained one study that showed for every dollar spent on early childhood care, communities see about a four to nine dollar comeback.
"It affects all of us," Shipley said. "When we have better educated children, we have a better community."
More learning is done during the first five years of a child's life than any other time. Shipley showed Lions the brain function of a two year old, who forms 700 new neural connections every second.
"They are learning and absorbing so much information," she said.
With this vast amount of learning going on at an early age, Shipley said it is imperative to have children receiving some type of formal education.
"More than 25 percent of children are entering kindergarten without the skills to succeed," she said.
Her employer, Ascent, has 80 enrolled children from Trumann and the surrounding area. Ascent services all of Poinsett County by providing developmental early intervention day treatment, therapy, and mental health serves to children from 6 weeks of age to Pre-K.
According to Shipley, Ascent has 40 to 50 employees including therapists, nurses, and teachers to help their children achieve success.
"The biggest thing is getting kids in an environment where they can succeed," she said. "With successful children, we have a successful community."