Junior Wildcats fall to Manila
Friday, November 22, 2013
Trumann's Junior Wildcats couldn't find an answer to Manila's fast pace offense as the Junior Lions posted a 61-30 win in the opening round of the Bay Junior High tournament this past Monday.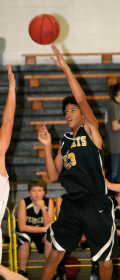 The teams traded baskets for the first half of the opening quarter as Rico Moreno and Payton Patterson made baskets after a Manila three-pointer and a couple free throws to make the score 5-4. The Lions went up 9-6 before Patterson got an offensive rebound and scored to cut the led to three. Dakota Craig made one of two free throws between Manila baskets to make the score 14-7 Manila after one period of play.
Manila went on a 11-4 run the first half of the second period to go up 25-11 with 2:22 left. Alex Moses hit a running jumper for the Junior Wildcats only points during the run. The Junior Lions closed the period on a 9-4 run to make the score 34-13 at the half. Patterson nailed a three from the left wing and Moreno hit one of two free throws for Trumann during the second run of the period.
Trumann could't slow down the Junior Lions in the third period as Trumann was outscored 18-7 in the period. Moreno and Mose scored all the points for the Junior Wildcats in the period as Moses made three baskets and Moreno mad a free throw. Manila was up 52-22 after three.
The mercy rule was in effect the final period of the game. The fourth was the closet period of the night with Manila outscoring Trumann 9-8. Trumann opened the period with a Michael Crist three-pointer and an Issac Haynie offensive rebound basket to make it 52-27 Manila. Stefan Chandler made of one of two free throws before hitting a jumper in the lane to make the score 57-30 before the Junior Lions scored the last four points of the game.
Alex Moses led Trumann with eight points as Patterson had six.