Lady Hornets sting Lady 'Cats
Friday, November 22, 2013
Peyton Carter scored 21 points for Harrisburg as the Lady Hornets ran their record to 3-0 on the season with a 58-39 over the Lady Wildcats who were playing their season opener.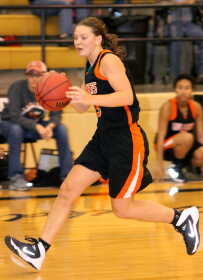 Harrisburg jumped out to a 4-0 lead before Shutavain Jones got Trumann on the board with a pair of free throws to make it 4-2. The teams traded baskets to make it 6-4 Lady Hornets and this was as close Trumann would be the remainder of the game. Hunter Lewis hit back to back three-pointers to finish off a 13-4 as the first period ended with Harrisburg up 19-8.
The Lady Wildcats opened the second period with a 9-4 run to close the gap to 23-17. Megan McGowan, Hannah Wood and Taelor Gartman all had three-pointers, Gartman's being a conventional three-point play. The Lady Hornets answered Trumann's run with a 13-2 run to take a 36-19 lead at the half. Kaci Mack, Makaleigh Riddle and Lewis all canned a three during the run and Caflora Hillis hit a shot at the buzzer for the Lady Hornets.
The teams traded points for the first half of the third period making it 40-23. Harrisburg's coach was issued a double technical and ejected from the game for arguing a call with 3:40 left. Gartman hit all four free throws to get Trumann within 40-27. The teams again traded baskets before Gartman hit a jumper and Hannah Wood nailed a three-pointer with 14 seconds left to make the score 44-34 after three periods of play.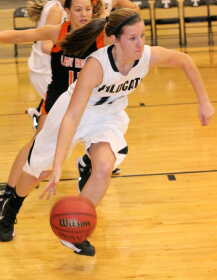 Trumann cut the lead to eight on two free throws from McGowan before the Lady Hornets went on a 7-0 run to push the lead to 51-36. McGowan was good on two more free throws followed by a Riddle three-pointer to make it 54-38 with just over four minutes left. McGowan hit one more free throw and Craft and Hillis each scored inside to set the final the score.
Lewis was the only other Lady Hornet to score in double digits finishing with 10 points.
Trumann was lead by Gartman with 11 points. McGowan and Wood each had nine points for the Lady Wildcats.