Girls conduct neighborhood food drive
Thursday, November 28, 2013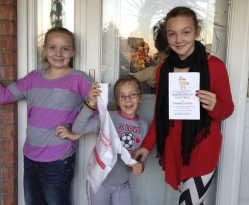 In the spirit of the holidays, five girls from Trumann spent the last week fulfilling a mission to gather food for those in need for Thanksgiving.
Shannon Bruner, grandmother of one of the girls, London White, said she had seen the idea online. It sparked an interest in White after talking with her grandmother about how blessed they are as a family to never have to wonder about their next meal.
"I wanted to promote the true meaning of Thanksgiving in my granddaughter's heart," Bruner said.
The girls involved in the food drive were White, 4th grade; Alexis Taylor, 4th grade; Kara Taylor, 1st grade; Emma Turner, 5th grade; and Evelyn Turner 3rd grade.
On Saturday, Nov. 16, the girls got together to hand out sacks along with flyers explaining their mission throughout their neighborhood. They reached out to 28 families.
On the following Saturday, Nov. 23, the girls went back around the neighborhood to collect the filled sacks. Their food count at the end of the day was nearly double the amount of families they had contacted.
"I felt good because helping people is the right thing to do, and I know that food drives can help others," White said.
Bruner added it was a wonderful time of togetherness and giving back for the girls. They are already looking at ways to improve next year's project and get more donations from families.
All food gathered went to the Trumann Food Pantry, where it was much appreciated. The food pantry served 438 families in October, and anticipated serving more in November.
Director Jeanne Johnson said the need continues to grow, especially around the holidays. The pantry depends on community members coming together to donate, like the girls.
She encourages other organizations and people to come together to donate and volunteer.
"We need to make sure the pantries are adequate to serve the growing number of people," Johnson said.
The pantry is open twice a week, and distributes an average of 20 pounds of food to each family once a month.
Johnson also encouraged organizations to be inspired by the girls selfless actions and donated for the upcoming Christmas season.
"I am thankful for all the food donated," White said regarding what she will be thankful for on this Thanksgiving. "I'm so glad we could help so many people."
Anyone wanting to donate to the Trumann Food Pantry make bring it to 610 Walnut Street from 8-11 on Tuesdays and Fridays, may make a monetary donation through mail PO Box 1105, or may contact (870) 483-0273 to have a volunteer pick up donations.