Lady Indians top Rector in overtime thriller
Friday, November 29, 2013
Four periods of play wasn't enough to crown a winner as Marked Tree and Rector had to play an extra four minute to produce a winner. The Lady Indians outscored the Lady Cougars 9-4 to post a 53-48 2A-3 conference win last Thursday in Marked Tree.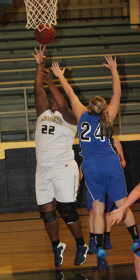 Marked Tree jumped out to an 8-0 lead as Kambria Marshall, Jay Perry and Dez Reel all had a basket with Lexi Perry knocking down two free throws with just over four minutes to play. Rector got on the board with a three-point before Lexi Perry hit back to back inside baskets off offensive rebounds to put the Lady Indians up 12-3. Rector got a free throw before the period ended to make it 12-4 after one period of play.
Both teams heated up in the second period as they traded baskets for the first half of the period. Jay Perry scored a basket inside with four minutes left to make it 22-15 Marked Tree. Rector cut the lead to three with back to back scores before Jay Perry scored back to back baskets to make it 26-19. Jay Perry hit another basket with thirty seconds left before half to the half time score at 28-21 Lady Indians.
The third period saw another back and forth scoring affair. The teams traded points the entire period before Rector hit back to back buckets to make the score 38-35 with 32 seconds left. Tullia Tull grabbed an offensive rebound for Marked Tree and scored to make it 40-35 after three. Lexi Perry had six points early in the period as Jay Perry scored four points in the second half of the period.
Rector used a 9-4 final period to tie the game and send it to overtime. Lexi Perry and Tull each had a basket for the Lady Indians as the Marked Tree offense went dormant as regulation ended with the score 44-44.
Rector took the lead first in overtime to take a 46-44 lead. Lexi Perry scored down low and was fouled with 2:01 left. Lexi Perry's free throw put Marked Tree up 47-46. Rector hit two free throws with 1:28 left to retake the lead 48-47. Tull hit a jumper for Marked Tree with 1:18 left that turned out to be the game winner putting the Lady Indians up 49-48. Diana Harris and Jay Perry each made a basket with under a minute to set the final score at 53-48 Marked Tree.
Lexi Perry led the Lady Indians with 21 points while pulling down 19 rebounds. Jay Perry scored 18 points for Marked Tree and dished out seven assists.