Checkerboard hosts Open House
Friday, December 6, 2013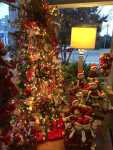 Checkerboard Fine Gifts in Trumann hosted their 17th Annual Open House on Sunday, Dec. 1. Owner Tina Adams-Middleton said about 150 were present at the event. Middleton and her husband, Kevin, treated customers to samples of their gourmet food products and a sale.
Middleton said their store gets busy around the holidays. In addition to selling home decor and gourmet food, she helps customers with suggestions for decorating their house for the holidays.
Customers come from all over Northeast Arkansas to find the unique gifts Checkboard has to offer. Middleton said they have something for all ages.
Checkerboard holiday hours are Dec. 1-24, 10 a.m. to 6 p.m. Monday through Friday, 10 a.m. to 4 p.m. Saturday, 1 p.m. to 4 p.m. Sunday, and 10 a.m. to 2 p.m. on Christmas Eve.
Checkerboard and other Poinsett County businesses offer a variety of items for Christmas shopping. Residents are encouraged to shop locally during this holiday season.