Teague has first day in court as Marked Tree city attorney
Friday, December 6, 2013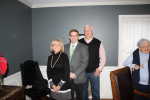 The Marked Tree City Council elected Jobi Teague as the new city attorney in the November monthly meeting. Teague was sworn in Friday, Nov. 22. His first day working for the city in court was Thursday, Nov. 26.
"I know all of these people, and I know their backgrounds," Teague said. "I'm inclined to really do a good job."
Teague has been practicing law for 9 years. After graduating from Marked Tree High School in 1996 as a Distinguished Honor Graduate, Teague pursued a pre-med degree at Arkansas State University in Jonesboro. He had high hopes of one day becoming a heart surgeon. After fainting from the sight of blood, he woke up with a dream to go to law school rather than medical school.
Teague has had many successes since his decision. He graduated from Oklahoma City University of Law in 2005. In 2006, he started his first independent practice in Covington (Tipton County), Tenn.
From that small-one room office, he gradually worked his way up. He now has offices in Marked Tree and Memphis.
Teague said he has handled all types of cases in Memphis as a defense attorney. Although he enjoys the high-drama of the Memphis courts, he loves helping the people of Marked Tree. He looks forward to being on the other side in the courtroom.
"I enjoy helping people, and there has not been a situation that I have not handled," Teague said. "There is an advantage to practicing in a small town like Marked Tree, but having big-city law training. I started in the Shelby County court system, so I know I can handle virtually anything that Marked Tree can throw at me."
Teague said he is very direct and to the point when in the courtroom. He has future plans of going into politics to stand up for the rights of individuals on a higher level.
His cases with the city will begin in January. Teague was elected Marked Tree city attorney after the resignation of Marked Tree attorney Mike Dabney.
"Jobi is a long time resident of Marked Tree, and he assured me he would see to it that all of the city's cases would be prosecuted in a timely manner," Marked Tree Mayor Mary Ann Arnold said. "I have complete confidence in his ability to serve the city well."