Mayor looks back on great year
Friday, December 6, 2013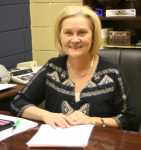 The year 2013 has been successful and progressive for the city of Trumann, according to Mayor Sheila Walters. She shared some of the successes the city has experienced, many dealing with the beautification and development of Trumann.
"Our city has been very fortunate. While other cities have had financial hardships, the city of Trumann has remained financially stable," Walters said.
Among several beautification projects, Trumann has been able to offer a new weekly service this year that allows residents to rid of large discarded articles, other than trash, by simply putting it by the road. Walters said residents can put their limbs in a pile and discarded articles in another pile by their trashcan on pick-up day, and the city will pick it up that day.
After 2013 bringing a great deal of condemned houses, Walters is looking forward to receiving a $40,000 grant that will help in the cleaning up process. The condemnation of a house is very costly to the city. She said this grant will be very beneficial.
"Flooding is another great problem in the city, and we are continually trying to alleviate that problem," the mayor said.
A new detention pond was constructed near Mulberry Street to assist in the flooding relief. Also, there has been recent repair to the drainage system in Ward 3 near Brian Street in an effort for the relief.
She added the city has worked with Craighead Electric and Entergy this year to rid of trees and limbs around highline wires. She anticipates this will help with any bad winter weather in the future.
Another accomplishment for Trumann was the upgrades to the the Municipal Complex and street department equipment. There were also upgrades in the parks including adding Disk Golf, repaired park benches, additional lighting and new equipment.
Within the next year, the mayor said these repairs will expand to the Sports Complex. A new netting will be installed, and the ball fields will be refurbished with field conditioner. This year, a grant was received for the city to replace four scoreboards at the complex.
With the end of 2013 near, Trumann has seen growth in many areas. Walters hopes to see the same and more in 2014.
One of the bigger projects is the construction of a new Adult Education building on Melton Avenue near the Police Department. The city has received additional funding for the building throughout the year. Walters foresees it to be a great asset to the community
"Trumann is a progressive community; however, we have been able to maintain that small town atmosphere," Walters said. "My door is always open to the public, and I look forward to hearing from our citizens."