Ladies of EPC pay it forward
Friday, December 6, 2013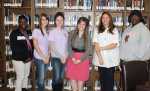 The Ladies of EPC are ready to spread some holiday cheer. They have kicked off the holiday season by taking part in adopting an angel through The Salvation Army's Angel Tree Program.
Angel tree matches donors with children from qualified families unable to provide gifts and clothing to their children during the holidays. For many donors, the personal connection to a child in the community has become a special tradition.
During the 2011-2012 school year the 9th through 12th grade boys at East Poinsett County High School created Men of EPC to mentor younger students to strive for academic excellence.
The EPC girls created a community oriented group, Ladies of EPC, to encourage students to take pride in their community and fight against bullying.
"After seeing the impact the Men of EPC made on all the younger boys in our school and in general we decided we wanted to be a part of that. We target more character building instead of academics," said 12th grade Ladies of EPC president Anna Claire Williams.
This year the Ladies of EPC have planned to target younger girls for their outreach projects rather than only working with JR high aged students. The ladies say they have made it a personal goal to instill self-respect in the younger generation and show them the importance of decency and not having a negative reputation.
"We always do something where we're asking the community to come out and help us by either buying something for a fundraiser or donate to us, come to our games, and we just wanted to try to give back to them," said 11th grade Ladies of EPC vice president Hannah Hale.
"It is our way of trying to pay it forward," Williams said.
Also for the Christmas season the ladies plan to take part in Lepanto's annual Christmas by entering a float.