Lady Indians cruise past EPC
Friday, December 6, 2013
EPC opened the game with a three-pointer and that would be their only lead of the night as the Marked Tree Lady Indians opened a 13 point lead after the opening period on their way to a 68-43 2A-3 conference win last Monday in Marked Tree.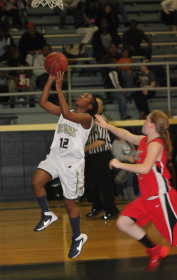 Alyson Phillips drained a three-pointer from the left wing to open the scoring and give EPC an early 3-0 lead with 7:10 left in the opening period. Lexi Perry scored inside for the Lady Indians before Kambria Marshall hit back to back three-pointers to put Marked Tree up 8-3. Synteria Ward hit a running jumper while being fouled. Ward converted the conventional three-point play to make it 8-6 Marked Tree with 3:23 left. The Lady Indians responded with a 11-0 run to end the period. Jay Perry had seven points during the run as Lexi Perry and Tullia Tull each scored a basket as the Lady Indians led 19-6 after one period of play.
Marked Tree stretched the lead to 24-6 as Diana Harris hit a three from the right wing to open the second period before Dez Reel went coast to coast for a score with 6:54 left. Stacey Mott hit a jumper in the lane for the Lady Warriors with 6:19 left to make it 24-8 Marked Tree. Jay Perry went on personal 7-0 run over the next minute to extend the Marked Tree lead to 31-8. Jay Perry scored inside, hit two free t throws and then nailed a three-pointer from the left corner. Ward stopped the run with three-ball from the right wing to make it 31-11. Lexi Perry scored back to back baskets down low to make it 35-11 with 2:55 left until half time. Ward answered with back to back scores for EPC to make it 35-15 before Jay Perry went full court for a layup with 15 seconds left to make it 37-15 Lady Indians at the half.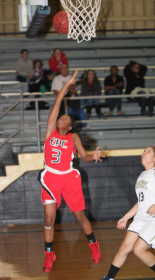 Phillips opened the third period with a three-ball from the right corner to make it 37-18 Marked Tree with 7:30 left. Lexi Perry scored inside before Christian Hinson hit a jumper for EPC and Phillips scored after grabbing an offensive rebound and was fouled. Phillips made her free throw to cut he EPC lead to 39-23. Lexi Perry outscored EPC 7-1 over the next minute and a half as she scored three baskets and connected on a free throw to make it 46-24. Phillips canned another three-pointer for the Lady Warriors and Harris and Tull scored baskets for Marked Tree to make the score 50-27 with 2:35 left to play. The teams traded points the final two minutes of the game with EPC taking a 56-33 lead into the final period. Lexi Perry had 13 points in the period.
Marked Tree opened the period with an 8-2 run to go up 64-35 with 4:59 left in the game. Marshall and Tull both hit two baskets apiece during the run. Ward hit a jumper for EPC before Reel scored back to back layups for the Lady Indians to make it 68-37 thus invoking the mercy rule. Hinson scored the last six points of the game for EPC to set the final at 68-43.
Lexi Perry led all scorers on the night with 19 points for Marked Tree. Jay Perry added 16 points, Tull 12 points and Marshall 10 points for the Lady Indians. Ward led the Lady Warriors with 16 points as Phillips had 12 points and Hinson 10 points for EPC.