Lady 'Cats victorious in tourney opener
Friday, December 6, 2013
Trumann pulled away from Bay late in the first period and never looked back as the Lady Wildcats posted a 63-33 win over the Lady Yellowjackets in the opening round of the girls Pre-Holiday tournament this past Monday in Bay.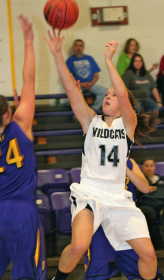 The teams played pretty evenly for the first five and a half minutes with neither team going up by more that two. Katie Ferguson hit a three-pointer for Bay with 2:38 left in the opening period to give Bay a 12-9 lead. This would be the last lead of the game for the Lady 'Jackets. Trumann went on a 9-0 run to take an 18-12 lead after the opening period. Kelcie Roland scored eight points during the Lady 'Cats run.
Trumann continued their run with eight straight points to open the second period to go up 26-12. McGowan opened the run with a three-ball from the left wing followed by Roland hitting one of two free throws. Shutavain Jones got a steal and layup and Kali Bo Conaway scored inside with 5:39 left before half. Ferguson nailed another three-pointer to stop the Trumann run and make the score 26-15 Trumann. Trumann scored the next five with Conaway hitting one of two free throws, Deserae Harris scored a bucket inside and Taelor Gartman got a steal and layup to stretch the Trumann lead to 31-15. Ferguson scored inside for Bay before Harris hit two free throws after being fouled and then getting a steal and scoring on a layup. Serena Brown hit one of two free throws for Bay as the teams went to half with Truman up 35-18.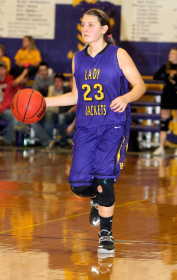 Trumann didn't slow down any after half as the Lady Wildcats opened the third period with a 12-3 run. Gartman scored six points for Trumann during the run with Raven Francomano scoring a bucket for Bay and Sydney Higgins hitting one of two free throws to make the score 47-21 Lady Wildcats with 3:33 left in the period. Gartman scored inside, Amber Kent hit one of two free throws before drilling a base line jumper for Trumann to make it 52-21. Higgins got inside for a basket eight seconds left to make it 52-23 Trumann after three periods of play.
Brown got inside for Bay and scored to make it 52-25. Trumann scored the next seven points to make it 59-25 and invoke the mercy rule. Francomano hit a jumper for Bay before Trumann got a bucket from Harris and a steal and layup from Gartman to make it 63-27 with 3:36 left. Higgins hit one of two free throws, Brown and Higgins both scored inside and Francomano hit one of two free throws for Bay to set the final at 63-33.
Gartman led three Lady Wildcats in double figures with 15 points. Harris finished with 12 points and Roland chipped in 10 points for Trumann.
Ferguson led the Lady 'Jackets with 15 points.