Trumann falls in semis of Pre-Holiday Tourney
Thursday, December 12, 2013
Brookland opened the game with 10-0 run on their way to a 22-3 lead after the first period and the Lady Wildcats could not recover as they fell to the Lady Bearcats 63-36 in the semi-finals of the Pre-Holiday tournament in Bay last Wednesday.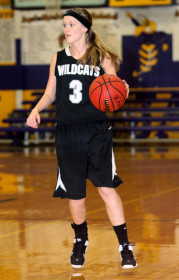 Kelcie Rolland stopped the 10-0 run by Brookland with a free throw with 4:47 left to make it 10-1 Lady Bearcats. Taelor Gartman went coast to coast for a lay-up with 4:08 left to make the score 13-4 Brookland. The Lady Bearcats closed with a 9-0 run to make it a 22-3 lead after the first period.
Brookland opened on fire again getting off to a 9-0 start to push the lead to 31-3. Deserae Harris got her own rebound and scored for Trumann followed by Shutavain Jones hitting one of two free throws making the score 31-7 with 3:12 left. Brookland scored the next three points before Gartman hit one of two free throws with 1:39 left and Jones canned a three from the top of key with eight seconds left sending the teams to half time with Brookland up 34-11.
Trumann's offense had it's best period of the night in in the third but the Lady Bearcats kept the fast pace offense up and outscored the Lady Wildcats 22-15 in the period. The teams traded there-pointers to open the period with Gartman drilling one from the right corner for Trumann. Rolland made the score 37-16 with a basket inside for the Lady Wildcats with 6:31 left. The Lady Bearcats scored the next four before Harris got one of two free throws to fall for Trumann making the score 41-17. The teams again traded three-pointers with Megan McGowan following the Brookland three with one from the top of key to make the score 44-20 Brookland with 4:52 left in the third. Brookland got a basket inside before the team combined to hit four straight three-pointers. The Lady Bearcats hit the first followed by back to back threes from Gartman and then another from Brookland making it 52-26 with 2:20 left to play. Brookland scored the last four points to make it 56-26 at the end of three.
The final period was played under the mercy rule. Trumann opened the period with a 7-3 run as McGowan canned a three-pointer, Rolland hit a base line jumper and Natalisha Moore hit a jumper in the lane to make it 59-43 with 2:38 left in the game. The Lady Bearcats hit back to back buckets before Belinda Zuniga hit a three-pointer to finish out the scoring.
Gartman led the Lady Wildcats in scoring with 12 points.